Kindermann presents a completely newly developed user interface for its entire product family Klick&Show product family, the universal collaboration and conferencing solutions. The modern, clear design makes it very easy to use all the options. The free firmware update also includes a new setup wizard and a digital signage function.
Since its market launch in 2017, Kindermann has continuously expanded its Klick&Show product family continuously. Today, three different models are available: Klick&Show K-WM, K-40 and K-FX. Over the years, the range of connection options and functions has continued to grow. To ensure that users can start their meetings quickly and easily despite this variety, Kindermann has completely redeveloped the user interface. The clear design makes using all the options child's play.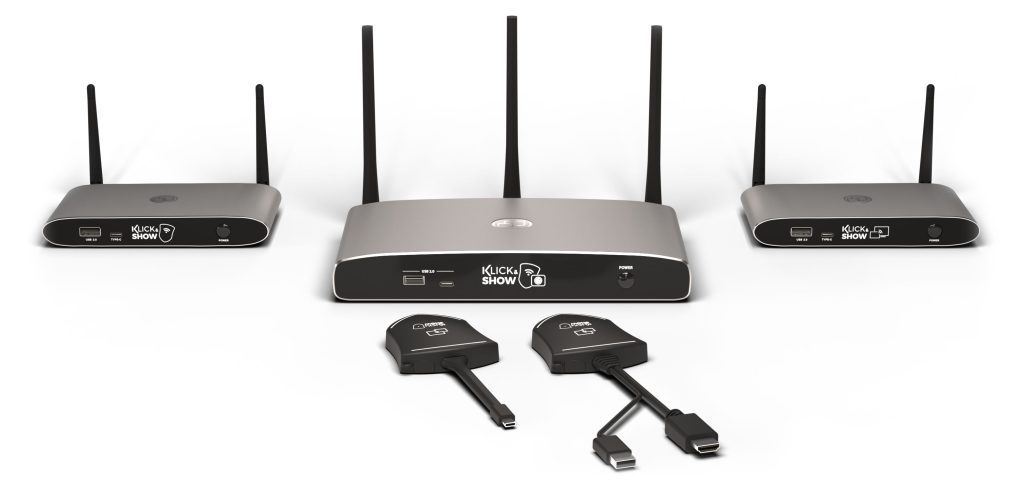 The right connection for every requirement
Klick&Show from Kindermann improves collaboration and productivity through a variety of functions. On the one hand, the solutions offer wireless transmission of content via transmitter, software client, app or natively via Airplay, Miracast or Chromecast. On the other hand, they also enable the wireless use of conferencing equipment for both Windows and MacOS. All of this is clearly displayed on the new, alternating home screen.
There are also corresponding short instructions for the various options. As part of the optimization, the PC client for BYOM and transmission without transmitter has also been revised, which now also facilitates navigation in an intuitive design. The setup of the Klick&Show has also been made even more intuitive with the help of a setup wizard.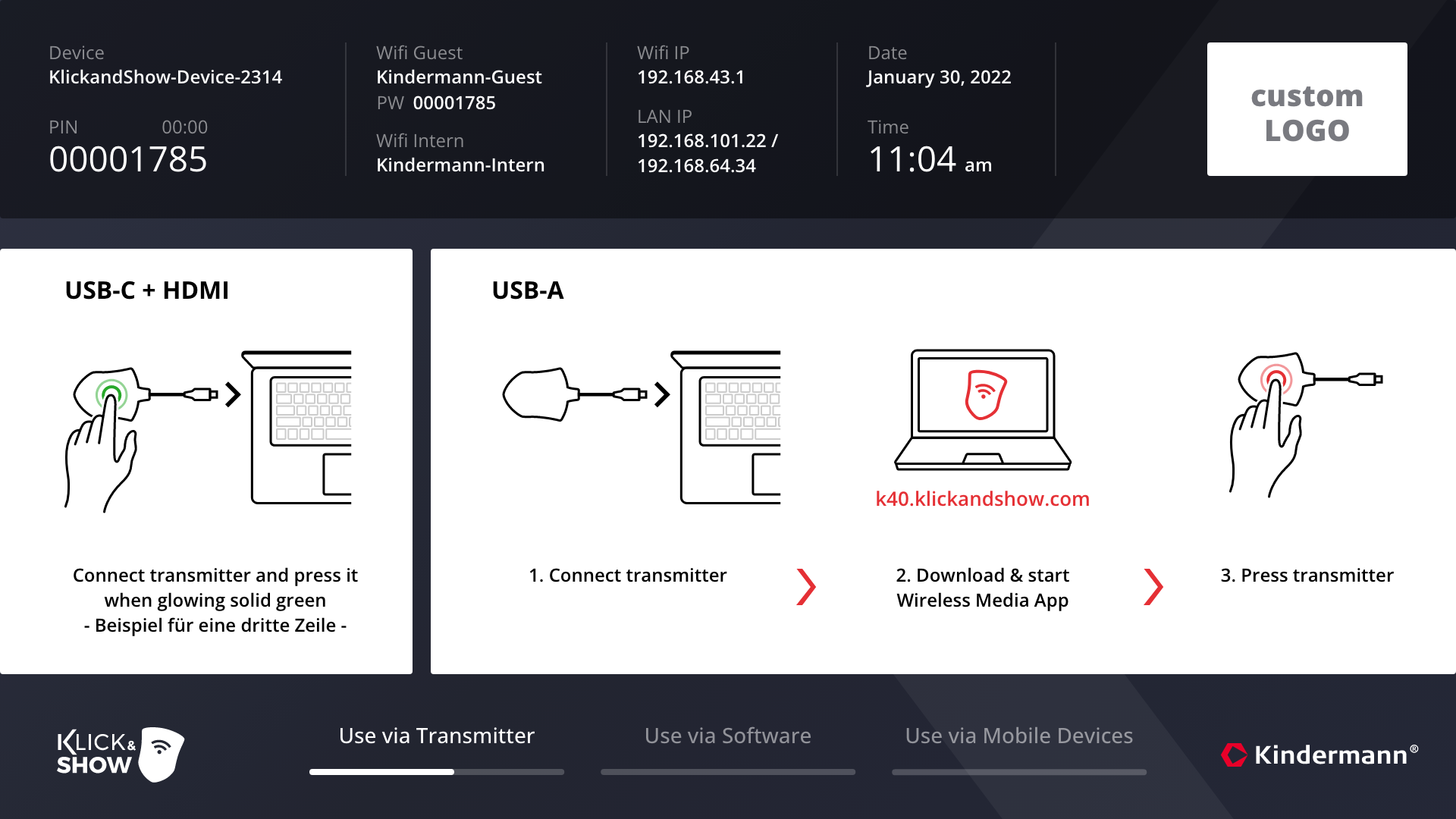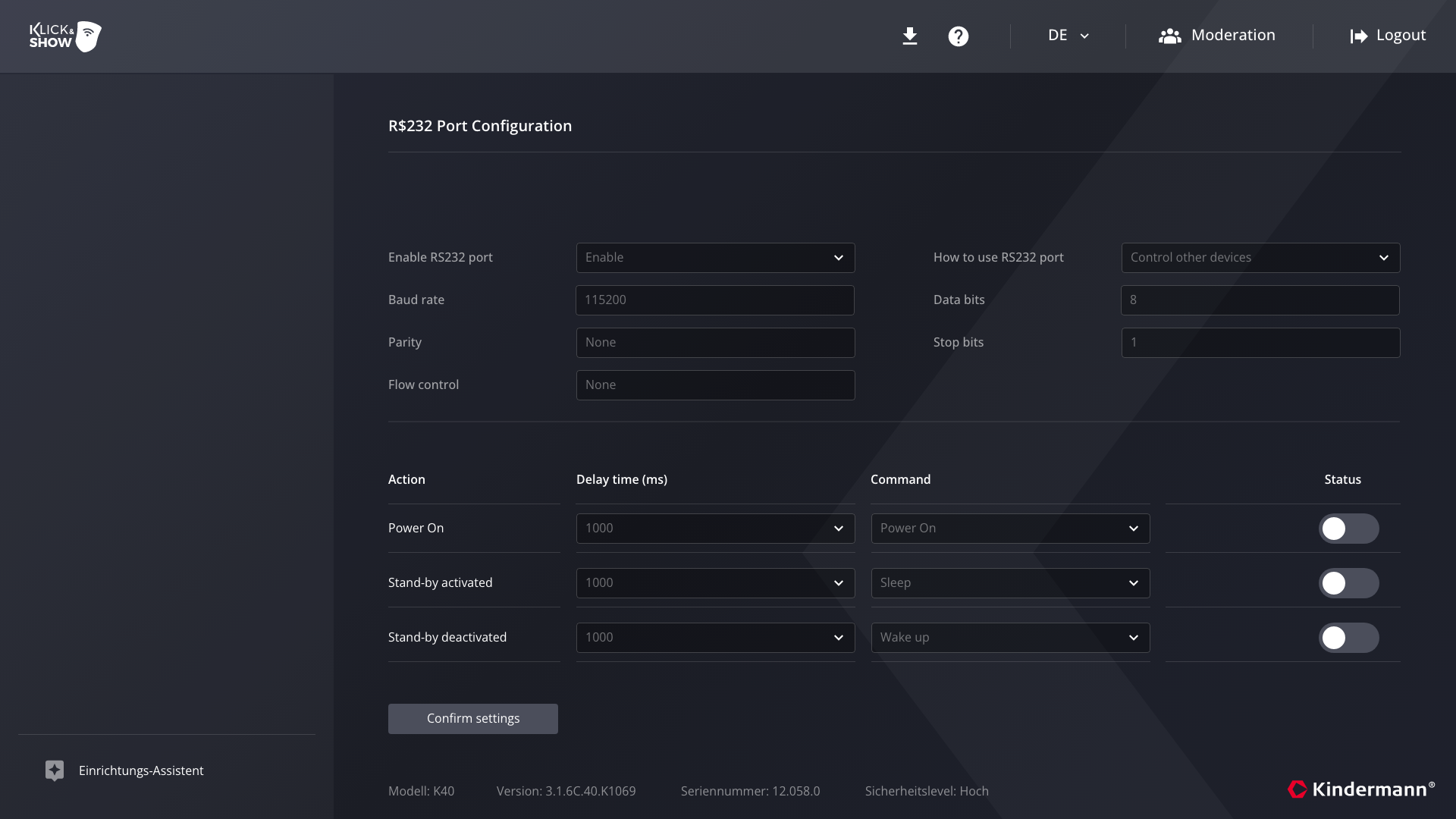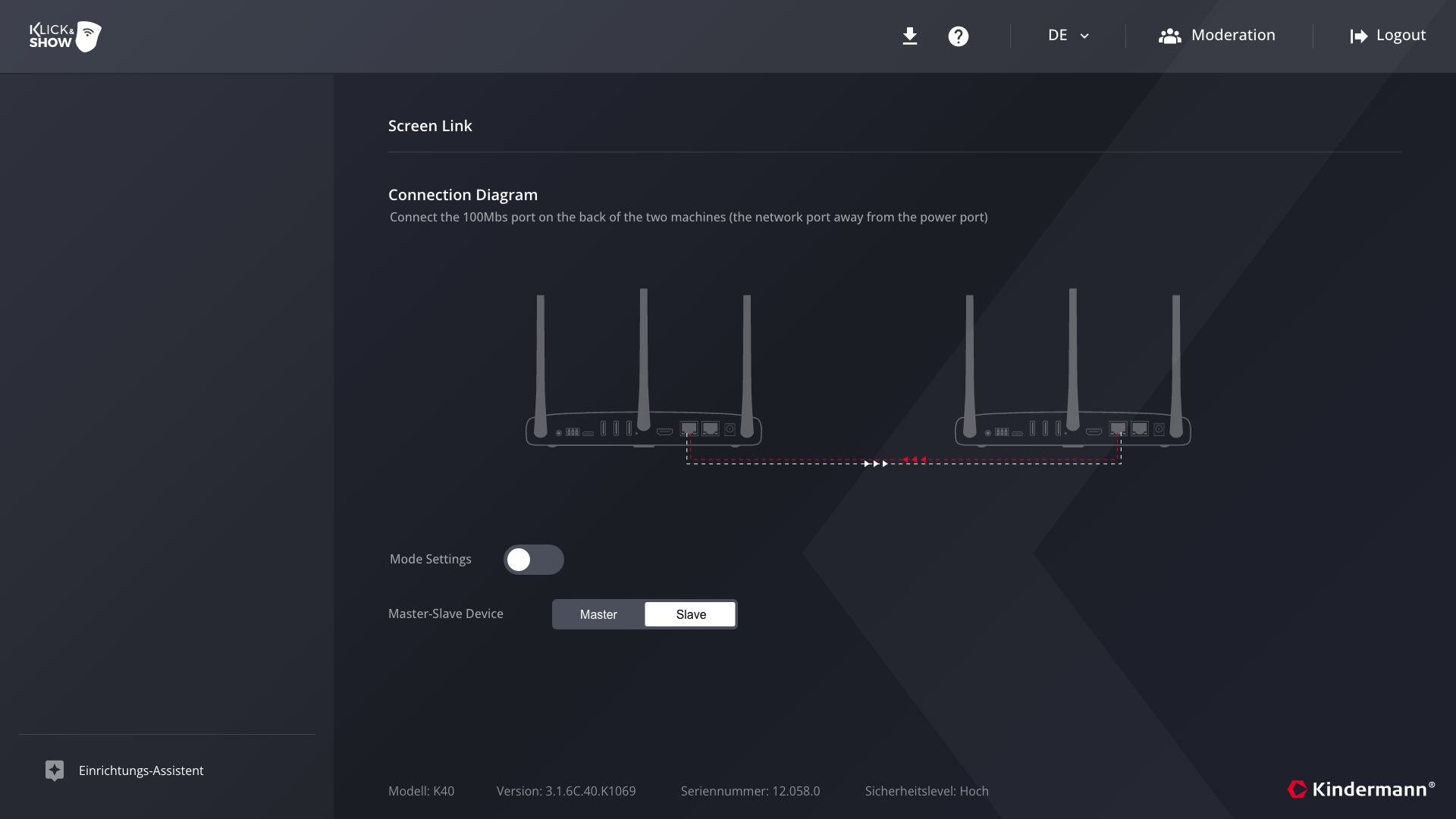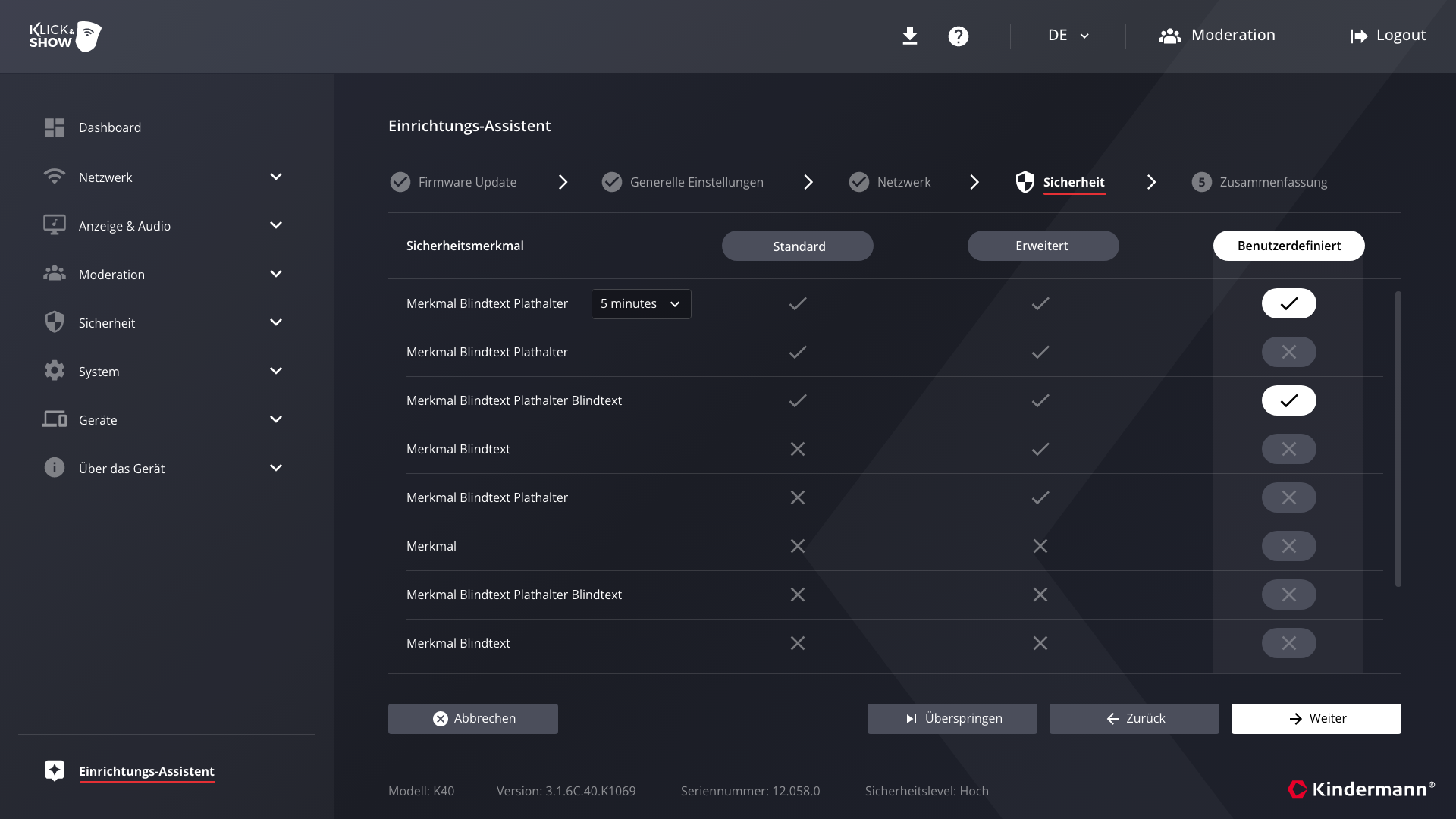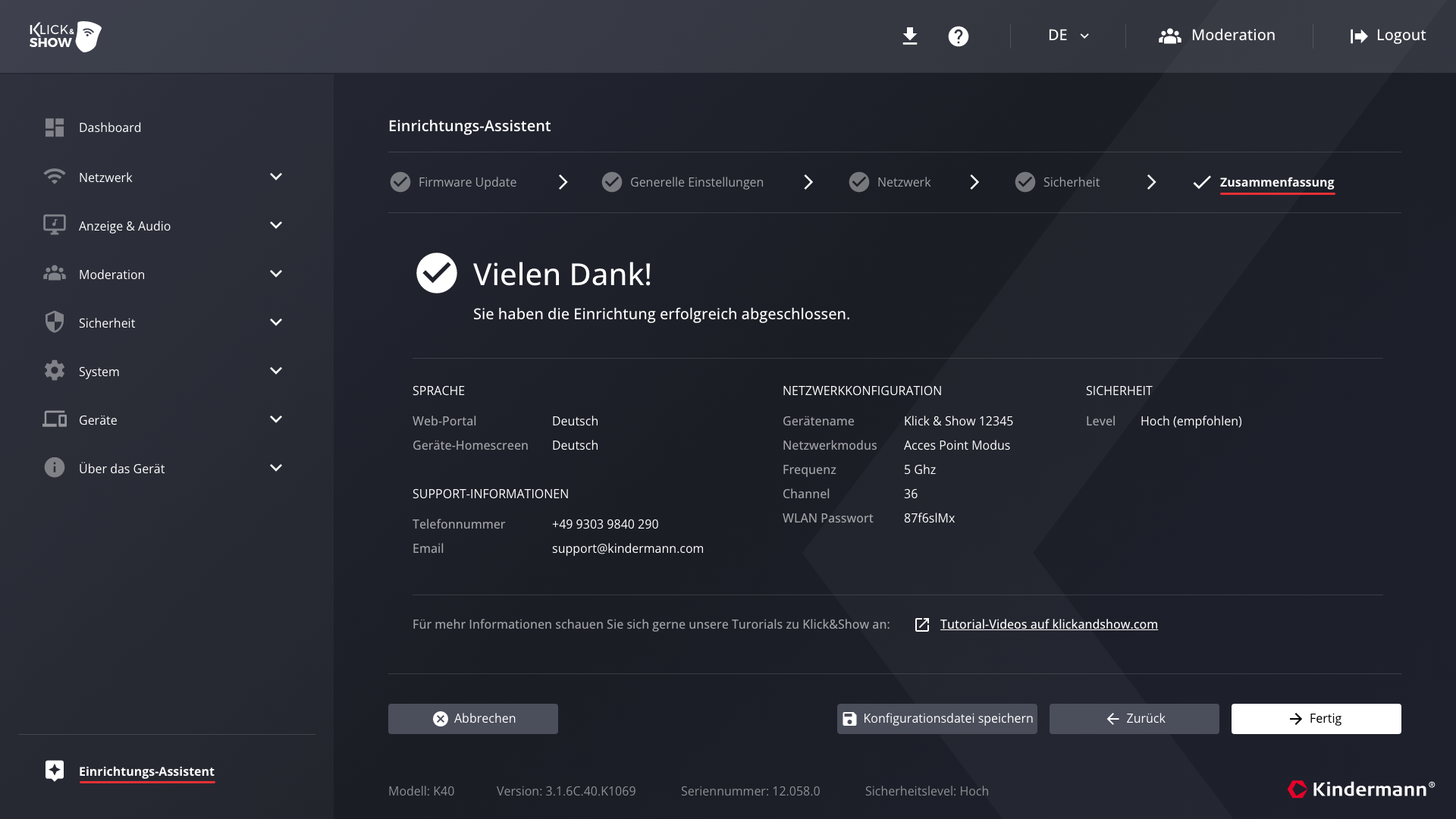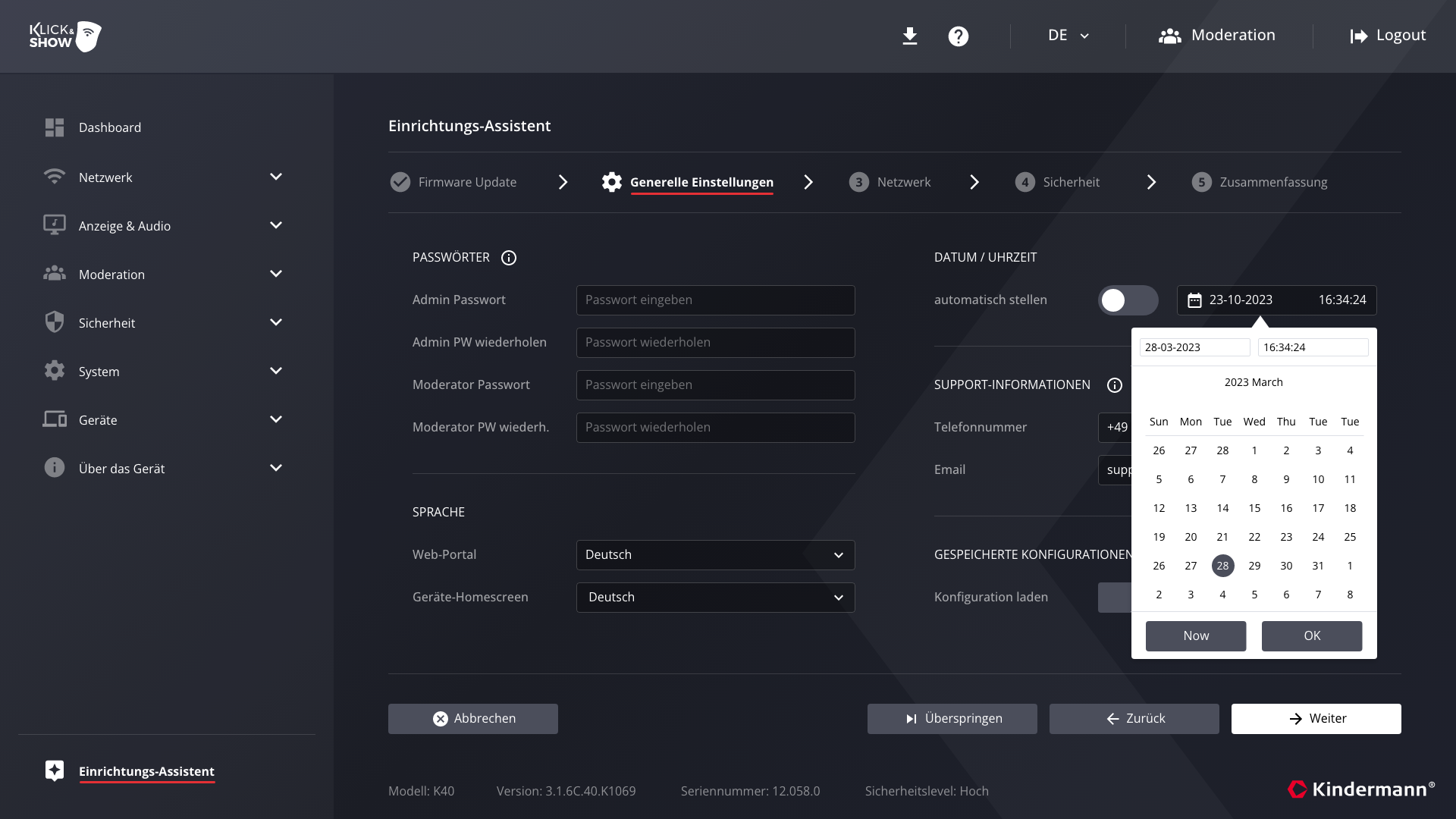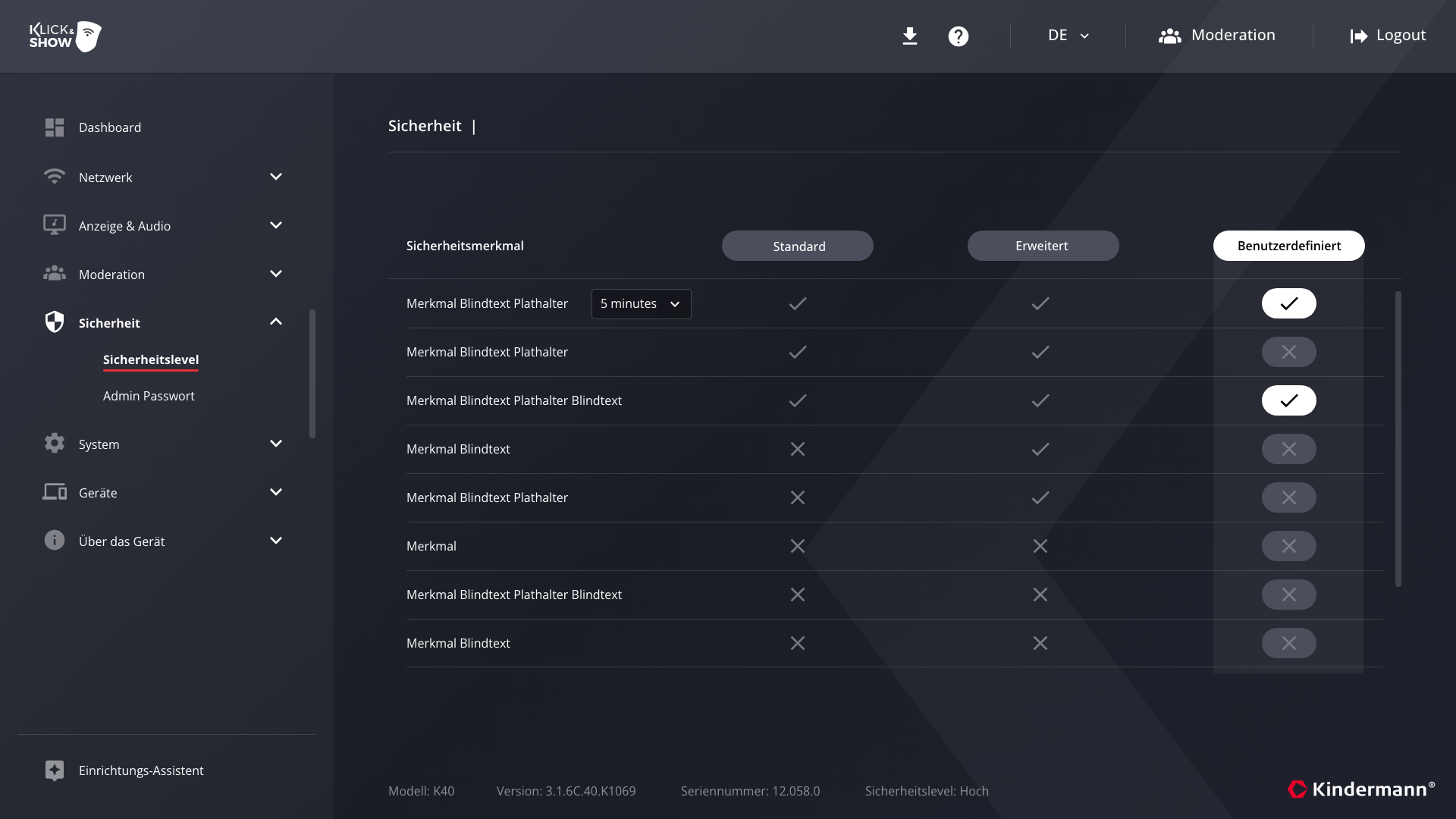 More visualization space
The absolute highlight is undoubtedly the Klick&Show Screen Link function. This makes it possible to link two Klick&Show base units with each other. This has the advantage that twice as many HDMI outputs and processor power are available and content can be output to two displays simultaneously. This allows users to benefit from the advantages of a second large display, making it easy to compare different value tables during presentations, for example, and to display all participants and content simultaneously in web conferences.
Klick&Show meets digital signage
So that Klick&Show also creates added value for companies outside of meetings, a digital signage function has been integrated as part of the new user interface. This makes it easy to show content such as company news, welcome texts or general information on the display. In order to keep the administrative effort for this as low as possible, corresponding days and times can be set for the content to go live.
The new free firmware update will be available for the K-40 and K-WM models during October 2023. For the model Klick&Show K-FX model, it is now available for download at www.klickandshow.com.
Kindermann GmbH achieved the final victory at the Court of Appeal in The Hague in the Netherlands against Barco N. V. This also confirms in the Netherlands that Kindermann has not infringed the asserted patent of the Belgian company with its collaboration solution. Klick&Show has not infringed the asserted patent of the Belgian company.
Back in 2021, the Dutch court of first instance rejected the accusation of patent infringement, even assuming that the patent was legally valid. Barco appealed at that time. On July 18, 2023, the Court of Appeal in The Hague has now confirmed the first-instance decision and also the revocation of Barco's patent in the Netherlands after Barco withdrew its appeal. 
"We are very pleased that the patent dispute in the Netherlands has now been concluded. This also signals legal certainty for our trading partners. In the meantime, we have Klick&Show continued to develop. The result is universal BYOM & BYOD solutions that ideally meet the requirements of the new worlds of work and education."

says Timo Meißner, managing director of Kindermann GmbH.
At present, proceedings on the validity of Barco's patent are still underway at the European Patent Office. Here, Kindermann is not alone; other providers of similar collaboration solutions also doubt the validity of the patent, a view that the EPO's Opposition Division has also endorsed and revoked the patent. Barco has filed an appeal against this.
Further information: www.klickandshow.com
Kindermann GmbH is now a distributor for Vogel's renowned AV mounting solutions. The company was previously active as a distributor, especially for the RISE lift systems. With the appointment of Kindermann GmbH as official distributor for Germany, Vogel's intensifies the cooperation.
As a distributor for Vogel's, Kindermann can now offer the full range of AV Professional products. Dealers benefit from the wide range of mounting solutions for all requirements, fast delivery and qualified support for projects.
Already firmly anchored in the product range of Kindermann is the RISE series from Vogel's. The motor-driven display lift systems are suitable for displays up to 86 inches and 140 kg. Due to the high quality standards of Vogel's, these are tested in the development phase with five times the permissible maximum weight and withstand even this effortlessly.
---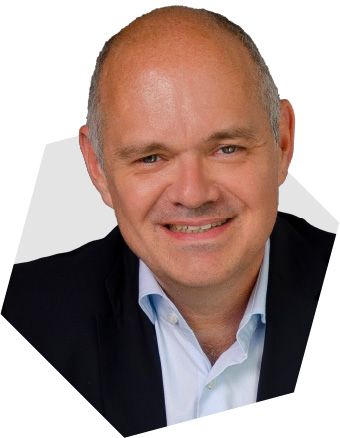 "We are pleased that Vogel's is expanding its cooperation with us. The company can undoubtedly be described as a pioneer in its field, and without exception all of its products are characterized by outstanding quality and ease of installation and operation. This means we can always offer our dealers the best solution, no matter how unusual the requirements."
Timo Meißner, Managing Director of Kindermann GmbH
"With Kindermann and Vogel's, two traditional companies come together whose combined expertise perfectly understands the requirements for modern AV mounting systems. We are convinced that the good reputation of Kindermann in the AV industry will help us to serve the German market in the best possible way."
Bernd Meyer, Sales Manager Professional at Vogel's Deutschland GmbH & Co.KG.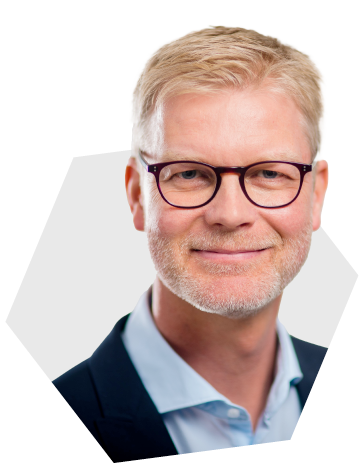 ---
Further information: www.kindermann.de and www.vogels.com
Kindermann GmbH establishes a worldwide certification program for its collaboration solution Klick&Show K-FX. The aim is to provide customers with solutions for hybrid meetings, video conferencing and collaboration that are perfectly matched to each other. To ensure this, the interaction of the products is extensively tested for compatibility both at Kindermann and at its partners.
To kick off the program, Kindermann presents its first official Klick&Show K-FX partner: Yamaha Music Europe GmbH. In a first step, Yamaha's two new video collaboration systems, CS-800 and CS-500, as well as ADECIA, the all-in-one audio solutions for conferencing, have been certified for Klick&Show K-FX certified throughout Europe.
Video Collaboration Systems also for Open Spaces
Yamaha CS-500 as well as CS-800 use the latest AI technology to combine voice and video data, enabling precise, hybrid collaboration in real time. In doing so, Yamaha's newly developed SoundCap Eye™ technology localizes the positions of participants, reduces distracting background noise and adjusts the volume. In addition to these features, the Yamaha CS-800 all-in-one video soundbar also offers an integrated 90 dBSPL (1 m) speaker, ensuring the best sound quality in meeting spaces.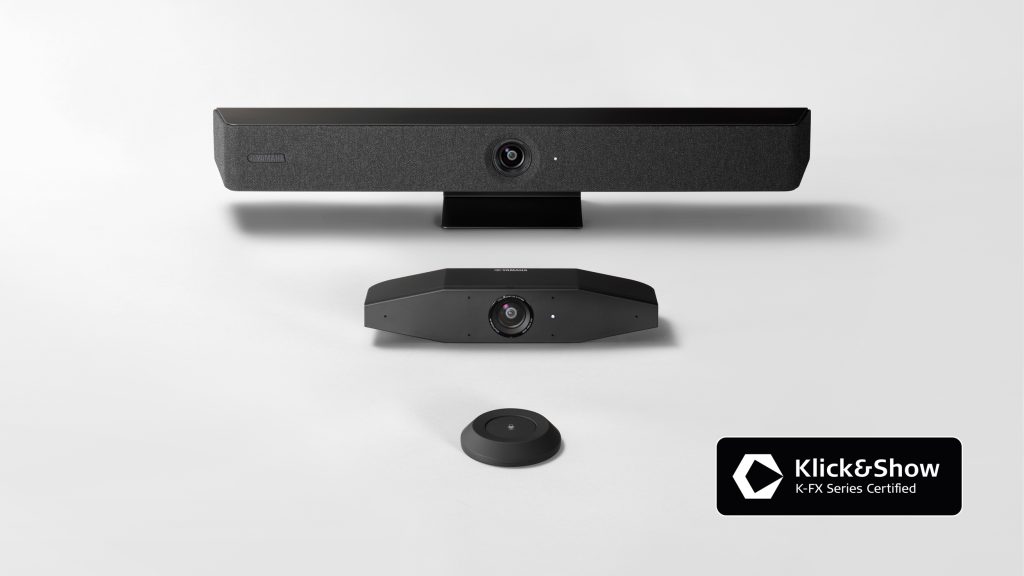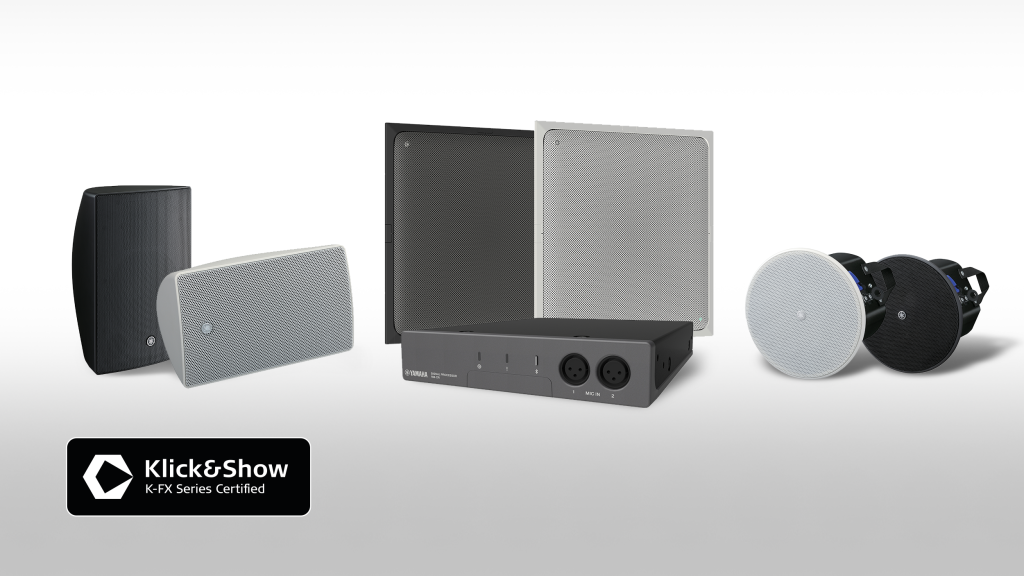 Professional complete audio solution for best sound quality
Yamaha's Dante-based ADECIA family of solutions is divided into three variants - ceiling, wireless and tabletop - and combines a whole range of microphones and loudspeakers into a complete solution for the best audio quality in the conference room. The RM-CR conference processor ensures the best connectivity by automatically detecting microphones and speakers on the same network and making the optimal sound settings according to the rooms in use.
The combination makes it
In combination with Klick&Show K-FX, these devices can be conveniently operated in the spirit of BYOM (Bring Your Own Meeting). Thanks to USB-over-WiFi for conferencing, the devices can be connected via USB to the Klick&Show K-FX and used wirelessly with the notebook. For this purpose, four USB ports (1x Type-C, 3x Type-A) are available on the back of the base unit Klick&Show K-FX are available. Thereby, it supports the transmission of camera images in Full HD resolution (1920x1080p) at 30 fps for excellent image quality in video conferences.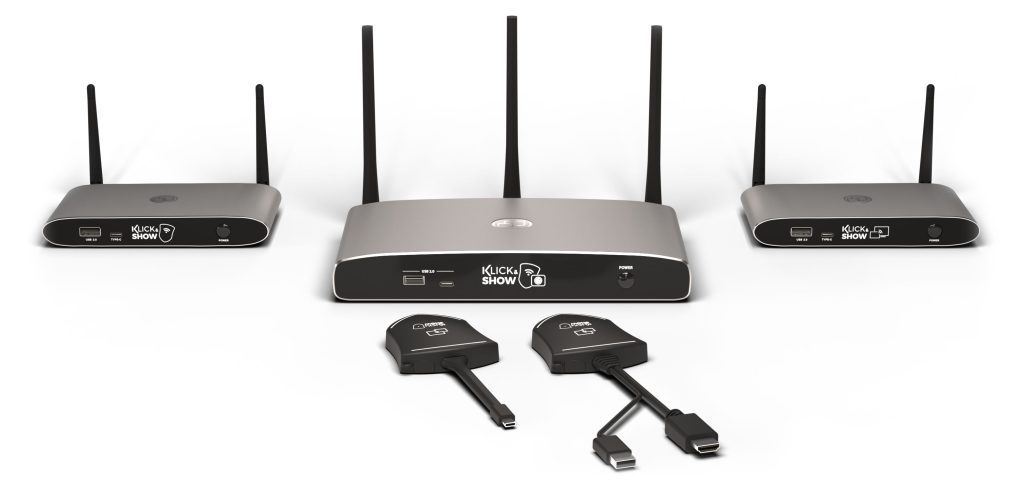 Kindermann GmbH is now a distributor for Bose Professional Conferencing products. So far the company was already a sales partner, with the status as distributor for Germany and Austria Bose Professional strengthens the cooperation.
As a distributor of Bose Professional, Kindermann can now offer a wider range of products and benefit from a variety of services. The advantages for dealers are obvious: fast delivery, training and consulting as well as qualified support for projects.

As part of this partnership, Kindermann now also has, for example, the Bose Professionals VB1 and VB-S video bars in its portfolio, which were developed for the requirements of Unified Communications & Collaboration (UC&C).
The easy-to-use Videobar family for small and medium-sized conference rooms features beamsteering microphones, a 4K Ultra HD camera and crystal-clear, distinctive Bose Professional sound quality for superior performance. With a sleek, low-profile design made possible by Bose Professional's renowned engineering, the video bars fit perfectly into any setting.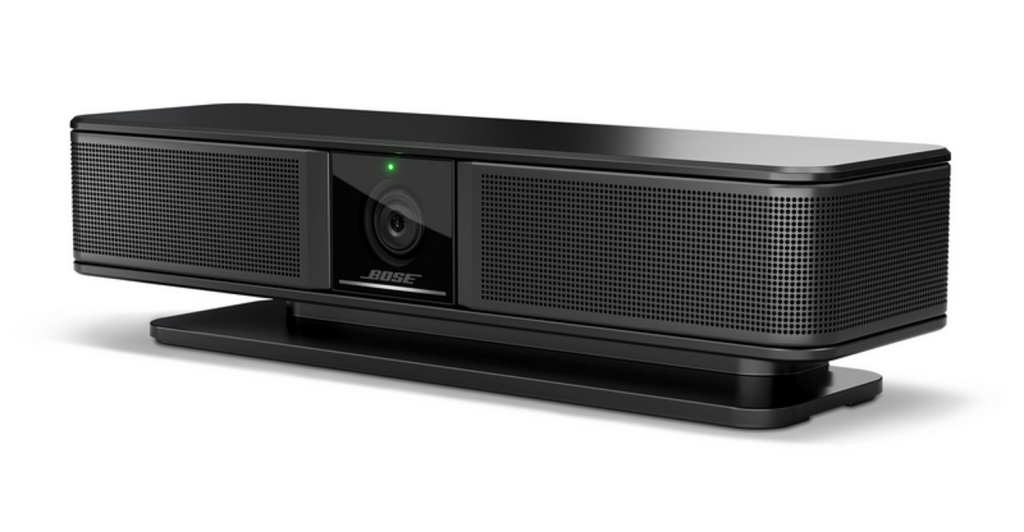 ---
"We are pleased to partner with Kindermann for Germany and Austria. We believe that Kindermann 's expertise and reputation in the AV industry will help us better serve our customers and increase our market reach."
Martin Becker, Regional Sales Manager D/A/PL/SCAN at Bose Professional.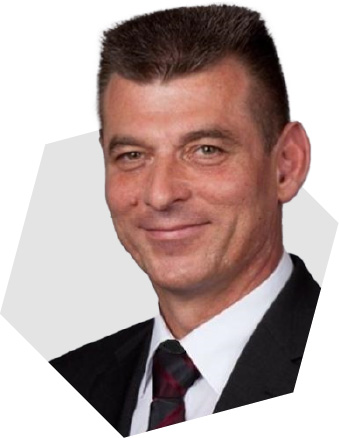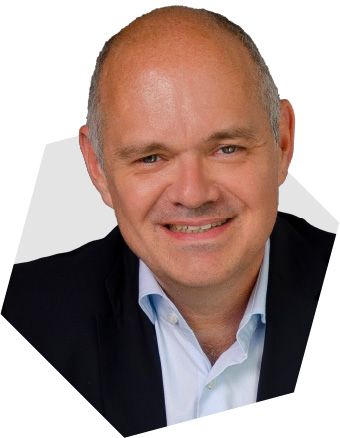 "We are delighted that Bose Professional is expanding its collaboration with us. Bose Professional, with its brand recognition and innovative solutions, is an asset to our portfolio and opens up whole new opportunities for our dealers."
Timo Meißner, Managing Director of Kindermann GmbH
---
For more information, visit www.boseprofessional.com 
MAXHUB, provider of innovative collaboration solutions for companies, is expanding its cooperation with Kindermann GmbH. The distributor will now also distribute MAXHUB's entire product range for Germany and Austria, which includes touch displays, unified communication products, all-in-one LED walls and commercial displays. The initial cooperation started in July 2021 with the UC solutions.
MAXHUB is a brand of CVTE Group, known for its leading display technologies. Last year, the company launched interactive displays in Europe. At ISE 2023, the trendsetting all-in-one touch displays of the V6 series were presented. They are perfectly tailored to the demands of hybrid work environments, featuring high-quality video and audio components with AI-powered features such as auto-framing, speaker tracking and noise cancellation. All major video conferencing systems are supported thanks to the Windows-based pre-installed Meeting Launcher. Easy installation and operation, wireless screen sharing with Advanced Encryption Standard (AES) with 128-bit encryption, ISO 27001 certification and a whiteboard app ensure secure as well as efficient collaboration.
---
"We are very pleased to be able to expand our cooperation with Kindermann . The distributor has decades of experience and a high reputation in the market. Through our previous cooperation we could already convince ourselves of the competence, reliability and good service. Innovative products are one side, only an active partner network can bring the desired success and here we can rely on Kindermann ."

Cathy Liu, Country Manager DACH at MAXHUB
"Companies are adapting to new working environments and displays play a key role in this. MAXHUB is the ideal partner to meet the diverse requirements. They offer a perfect range of business displays that impress with innovative technology and intelligent components. This rounds off our portfolio and creates real added value for our dealers."

Timo Meißner, Managing Director of Kindermann GmbH
---
Despite all the crises, Kindermann GmbH was able to achieve double-digit sales growth in the last two years. This organic growth shows that the Eibelstadt-based company made the right decisions at the right time.
Double-digit growth
Kindermann achieved sales growth of 26% in both fiscal years 2021 and 2022. This was due on the one hand to the expansion of the distribution portfolio, but also to the introduction of new proprietary products, which contributed significantly to this result. Particularly noteworthy here are the Kindermann touch display product families. These not only offer high-performance features, but were also particularly impressive thanks to the intuitive user interface developed in-house, which is the same across all display series.
Sales growth from
Percent
Setting the course for the future
Last year, Kindermann embarked on a comprehensive transformation process and also set an example with its new brand identity. With its "excellent25" strategy, the company launched a quality offensive and a focus on key topics such as conferencing, connectivity and collaboration. The goal is clearly defined: To create an excellent Kindermann experience for partners and users. To this end, new key positions have also been created and competently filled. Kindermann also intends to expand its distribution network on the international market.
The global expansion strategy relies exclusively on own products. ISE 2023 showed that Made in Germany continues to be of great importance. For example, the company was able to present the new all-in-one solution Huddle65M which can be used to transform any room into an interactive hybrid working environment. In addition, work on a new dealer online store is currently in full swing.
Under the sign of sustainability
---
Kindermann relies on renewable energy
The company site in Eibelstadt near Würzburg is also home to the production facility of Kindermann. This is where desk connection panels, brackets, ceiling lifts and media furniture are manufactured. Every manufacturing process consumes a lot of energy, but Kindermann sets an example for sustainability.
In June 2022, 500 photovoltaic modules were commissioned on the roof of the logistics hall. These currently generate more than 60 % of the total electricity requirement. In the first quarter of 2023, the installation of a further 700 modules on the roof of the production hall will follow. In total, the plant will generate 400,000 kWh in 2023, which is far in excess of the electricity consumption of Kindermann and will be fed into the grid.
In comparison, this output could supply 80 households with four people with energy for a year. Further measures are being planned.
---
"We are pleased with the positive sales development in recent years, despite a difficult market environment. Of course, we would like to continue this trend in the coming years. To this end, we set a new course last year and sent out a signal with our new corporate image. Furthermore, we are not only expanding our own portfolio, but are also focusing specifically on distribution. Now we have to live this new philosophy in order to meet the new market requirements as well as our own demands. Our goal remains the same, because we don't want to be the biggest, but the best",
Timo Meißner, Managing Director of Kindermann GmbH.
---
Kindermann GmbH is expanding its touch display range with the new TD-11 series. These interactive displays enable intuitive collaboration and convince with their future-proof features at an outstanding price-performance ratio. The series includes the sizes 55, 65, 75 and 86 inches.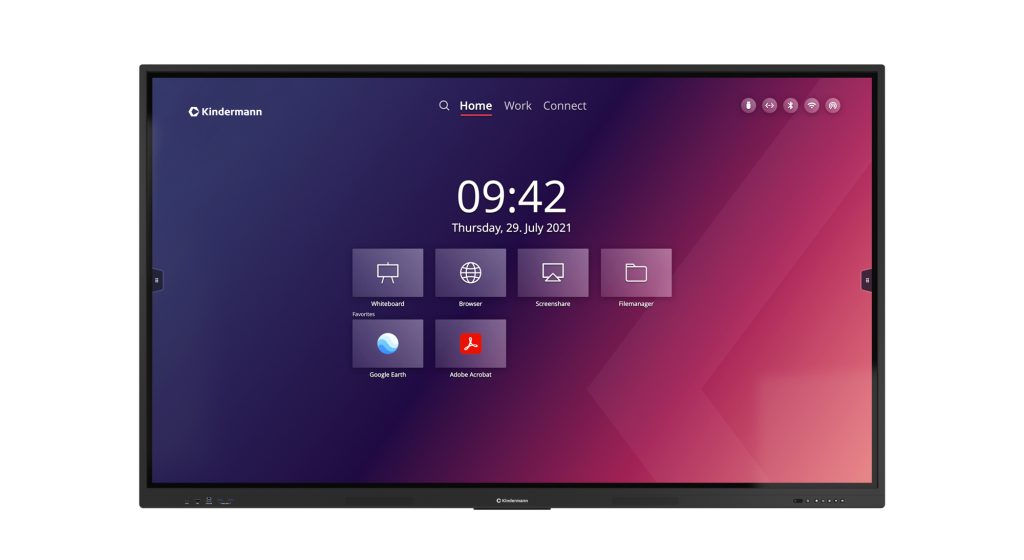 Almost exactly three years ago, Kindermann launched its first own touch displays on the market. The success confirms the company's decision at that time, which is now further expanding its portfolio to meet all requirements. The changes in the world of work and school have extremely increased the demand for interactive displays. Both areas are about collaboration and knowledge transfer, but also about sustainable investments. The new TD-11 series combines intuitive operation with high functionality as well as performance while preserving budgets.
Optimal touch precision
The new Kindermann TD-11 touch displays impress with their natural and very precise writing feel, which is made possible by zero-gap technology. Thanks to the support of up to 40 touch points, several people can work on the display at the same time, and the Microsoft Pen Protocol 2.0 is also supported. The 4K UHD resolution ensures a perfect and detailed display.
Future proof equipment
A powerful octa-core processor, WiFi 6, and an Android 11 operating system ensure a sustainable investment. The connectivity is impressive. Among other things, an HDMI 2.0 input and a USB-C port that supports picture, sound, data, and touch and offers 65 watts of charging power are available on the front.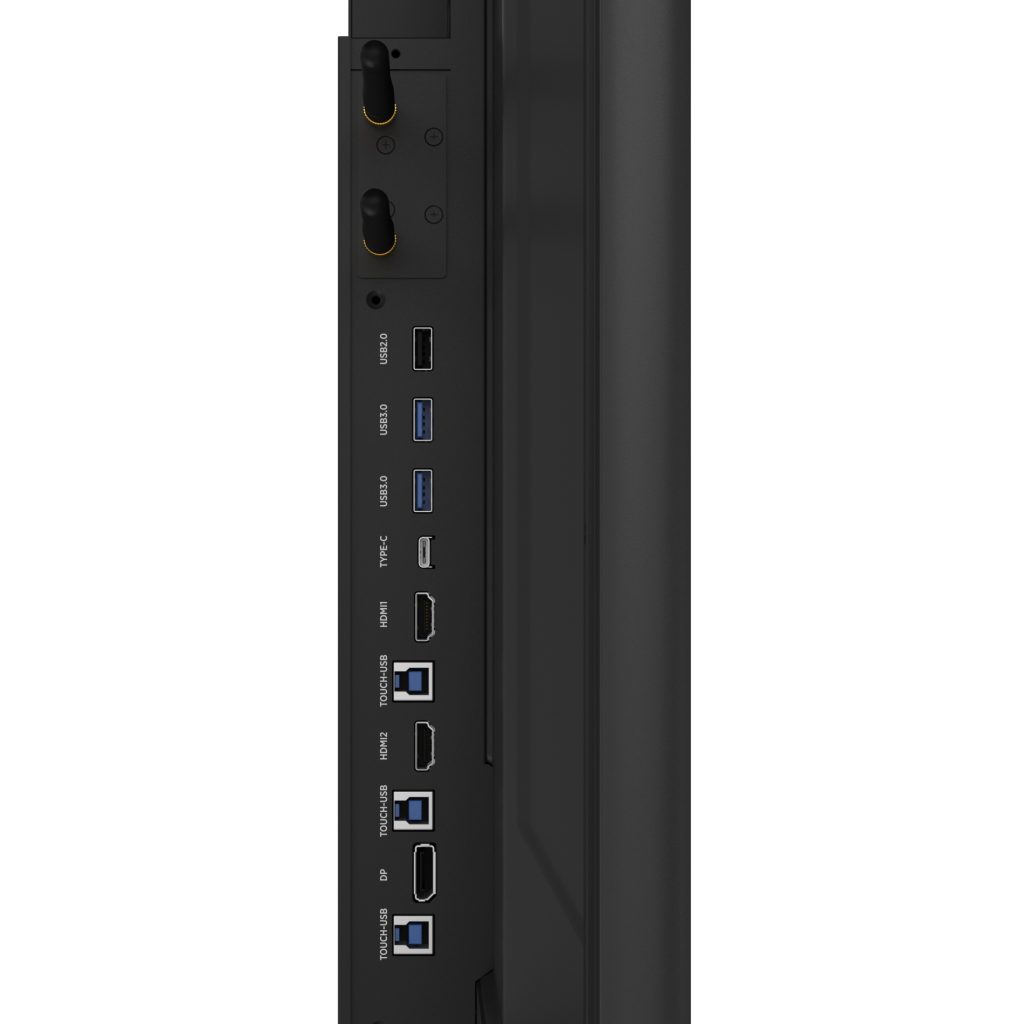 Other ports are easily accessible on the side of the displays, including another USB-C port. Furthermore, an OPS slot, two HDMI 2.0 and a DisplayPort input as well as other common interfaces are found there. Separate touch inputs via USB for each video input provide further convenience. This way, they don't have to be reconnected when changing sources. A 2x 20 W stereo sound system ensures the best audio playback.
Typical Kindermann look-and-feel
The new interactive displays feature the same user interface as the TD-20xx series introduced in 2022 by Kindermann. This has been specially developed for intuitive operation and ensures that meetings or lessons can start without delay. In addition, the same apps are installed, such as EShare, a software for the wireless transfer of content. This creates a uniform look and feel across all Kindermann touch display series. This is an advantage for customers who want to use different model series now and in the future.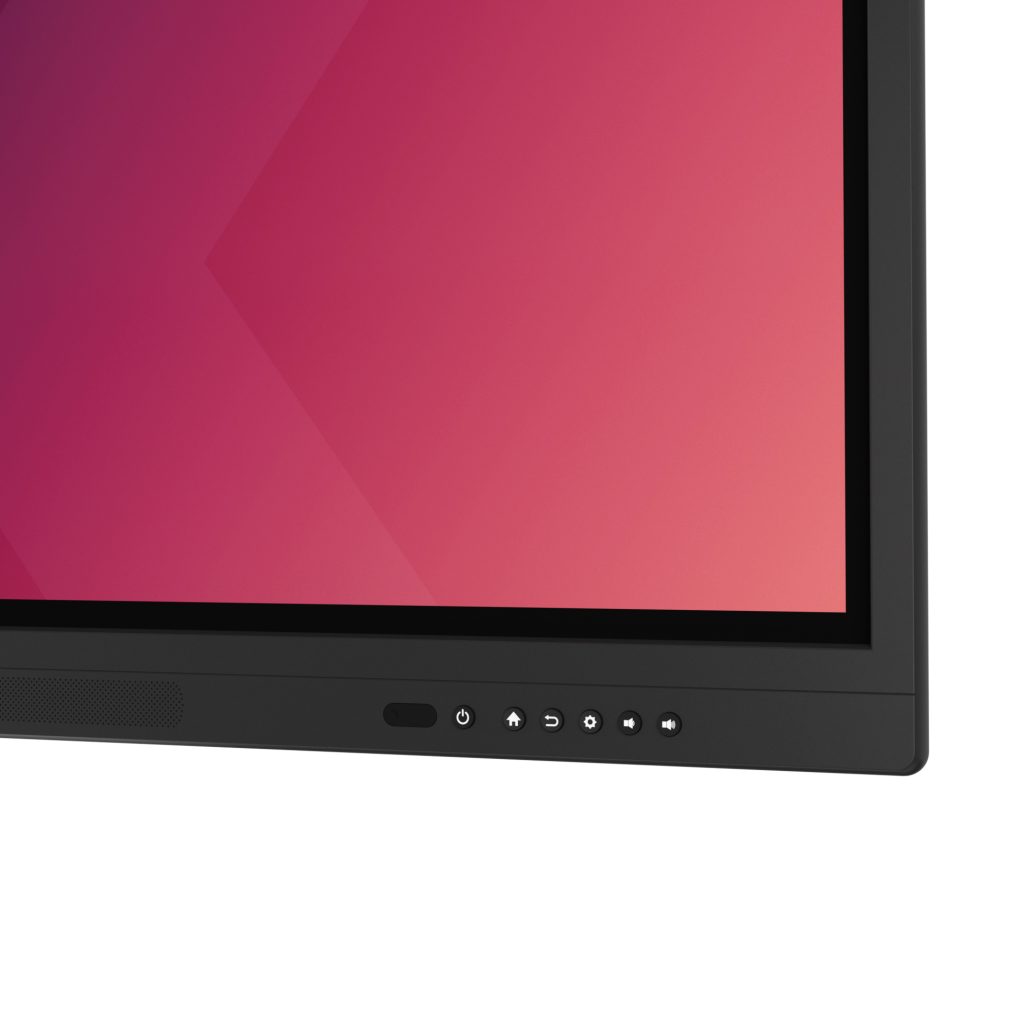 ---
Prices and availability
The TD-11xx series will be available in the first quarter of 2023 at prices starting at €1,590 plus VAT. 
Kindermann will present the new, free firmware update for its K-FX and K-40 models at ISE 2023. KLICK&SHOW K-FX and K-40 models. For the first time, two base units can be KLICK&SHOW base units can be linked, allowing different content to be shown on two displays, ideal for hybrid meetings. A new MacOS BYOM client and optimizations in terms of Miracast transmission bring further added value.
KLICK&SHOW Screen Link
The absolute highlight of the firmware update is without a doubt the new KLICK&SHOW Screen Link function. This makes it possible to link two KLICK&SHOW two base units with each other. This has the advantages that twice as many HDMI outputs as well as processing power are available and content can be output to two displays at the same time. The latter is ideal for applications that benefit from outputting different image content across two main displays. For example, different value tables can be easily synchronized during presentations, and all participants and content can be displayed simultaneously in web conferences. In education, the instructor's training material can be permanently displayed while the students' content is rotated through on the second display.
BYOM meets MacOS
With the new firmware update, users of Apple MacBooks with the KLICK&SHOW K-FX can now enjoy the benefits of BYOM in hybrid meetings. Thanks to the MacOS BYOM client, UC equipment such as video soundbars and webcams can be conveniently controlled wirelessly from the MacBook. All common web conferencing applications are supported.
Optimized Miracast functions
Both KLICK&SHOW K-FX as well as K-40 offer an optimized wireless transmission via Miracast standard and "Miracast-over-Infrastructure" by the update. In addition, the previously required USB WiFi adapter of the K-40 model becomes obsolete under certain conditions.
The new firmware update is rounded off by further improvements and bug fixes. In addition to security-related things, the processing of video and audio data has also been optimized, which ensures a more reliable connection and higher quality in hybrid meetings.
Click here for new firmware packages (version K3095 for KLICK&SHOW K-X, version K1082 for KLICK&SHOW K-40), as well as further information about the Kindermann KLICK&SHOW product family.
Kindermann, one of the leading suppliers of innovative presentation and media technology, will bring its new claim "proudly presents" to life at ISE 2023. In addition to successfully established solutions, many new products under its own brand will be presented there. Easy installation and user-friendliness are the focus of all products presented.
New look for new working worlds
At ISE 2023, the new Kindermann touch display TD-30105-UW can be admired for the first time. This 105-inch panel impresses with its slim design as well as its 21:9 aspect ratio in 5K resolution. As a result, it offers more space for visualizations without taking up more vertical space. This ultrawide format is ideal for new work environments like Microsoft Front Row (Microsoft Teams Rooms), where all remote participants are displayed in a gallery view at the bottom of the display. The new touch display does not require an Android operating system as it relies on an integrated state-of-the-art Windows OPS PC with Intel i7 processor, 16 GB DDR4 RAM, pre-installed Windows 10 Pro, WiFi 6 and two Thunderbolt 4 ports. Two DisplayPort interfaces support 5K resolution in particular, among other advantages. Matching this extraordinary size, Kindermann also offers a roll stand for its new touch display.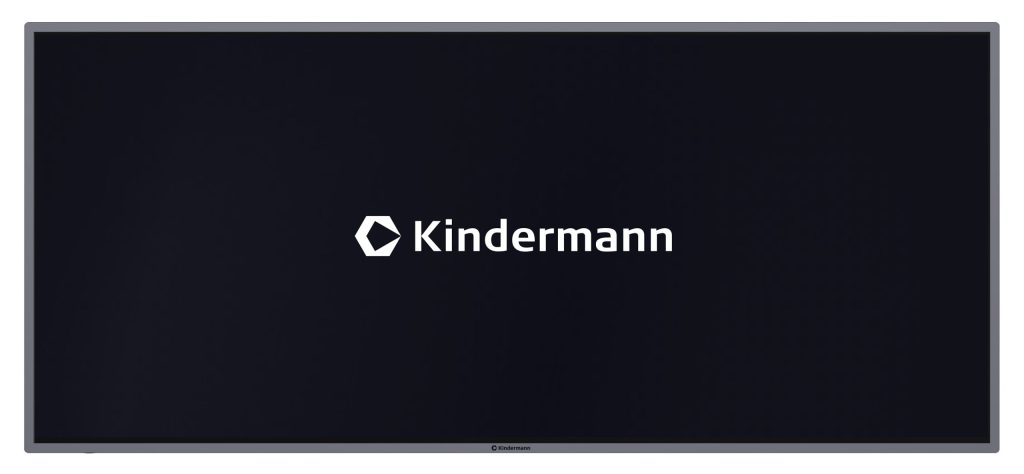 The simple way to manage signals
The Kindermann MultiSwitch 21 HDBT is the ideal product for the use of UC devices such as video soundbars, cameras and hands-free devices in meeting rooms. Of course, it is also suitable for KVM applications. The multi-format switch for HDMI, USB-C incl. USB data signals supports resolutions up to 4K/60 (4:4:4) as well as HDCP 2.2, with all data transmitted uncompressed at a maximum of 18 Gbit/s over a distance of up to 100 meters via a single CAT 6/7 thanks to HD-BaseT 3.0. The Kindermann MultiSwitch 21 HDBT can be easily integrated into the company network and can thus also be controlled via a web interface.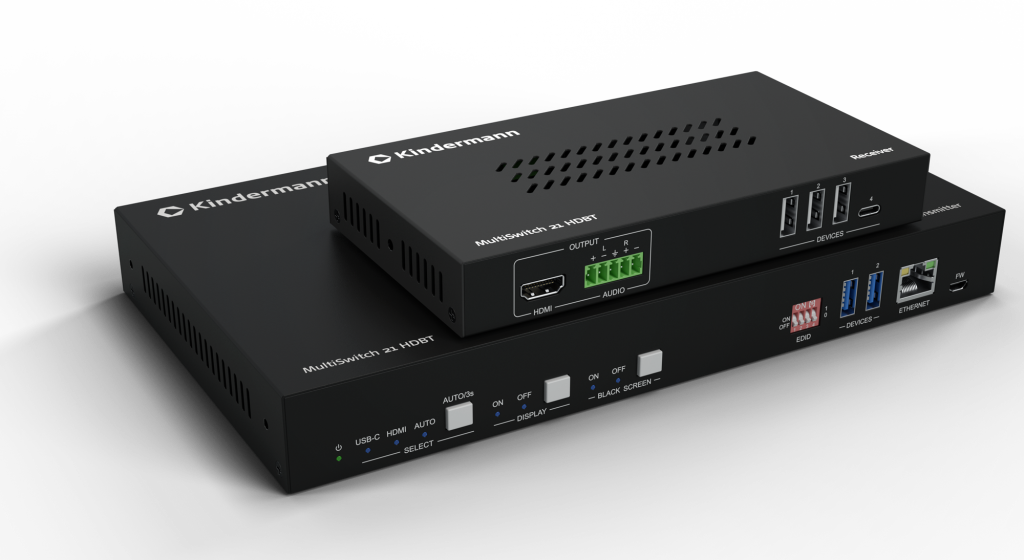 Affordable touch displays
Kindermann presents its new TD-11 touch display series at ISE 2023, which impress with their rich features and intuitive Kindermann user interface. Thanks to a powerful processor, WiFi 6, two USB-C interfaces and Android 11 operating system, they are future-proof and that at a low investment cost. The series includes 55-, 65-, 75- and 86-inch sizes, each with 40 touch points as well as wireless screen sharing.
DisplayShift²
Kindermann DisplayShift² is a manual, stepless height adjustment for displays up to 86 inches. It impresses with a newly developed spring tensioning mechanism that prevents the spring from stretching. Three models are available: the two "Classic" variants with different maximum load capacities (up to 43 kg or up to 74 kg). The DisplayShift² Wings (up to 78 kg with accessories) was specially developed for the educational sector and is equipped with wings.