Kindermann GmbH establishes a worldwide certification program for its collaboration solution Klick&Show K-FX. The aim is to provide customers with solutions for hybrid meetings, video conferencing and collaboration that are perfectly matched to each other. To ensure this, the interaction of the products is extensively tested for compatibility both at Kindermann and at its partners.
To kick off the program, Kindermann presents its first official Klick&Show K-FX partner: Yamaha Music Europe GmbH. In a first step, Yamaha's two new video collaboration systems, CS-800 and CS-500, as well as ADECIA, the all-in-one audio solutions for conferencing, have been certified for Klick&Show K-FX certified throughout Europe.
Video Collaboration Systems also for Open Spaces
Yamaha CS-500 as well as CS-800 use the latest AI technology to combine voice and video data, enabling precise, hybrid collaboration in real time. In doing so, Yamaha's newly developed SoundCap Eye™ technology localizes the positions of participants, reduces distracting background noise and adjusts the volume. In addition to these features, the Yamaha CS-800 all-in-one video soundbar also offers an integrated 90 dBSPL (1 m) speaker, ensuring the best sound quality in meeting spaces.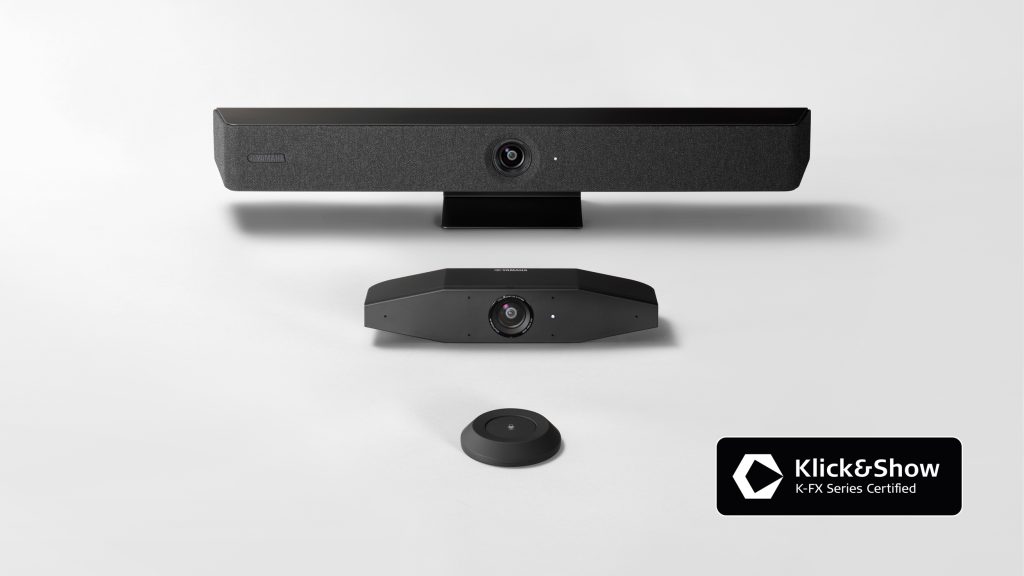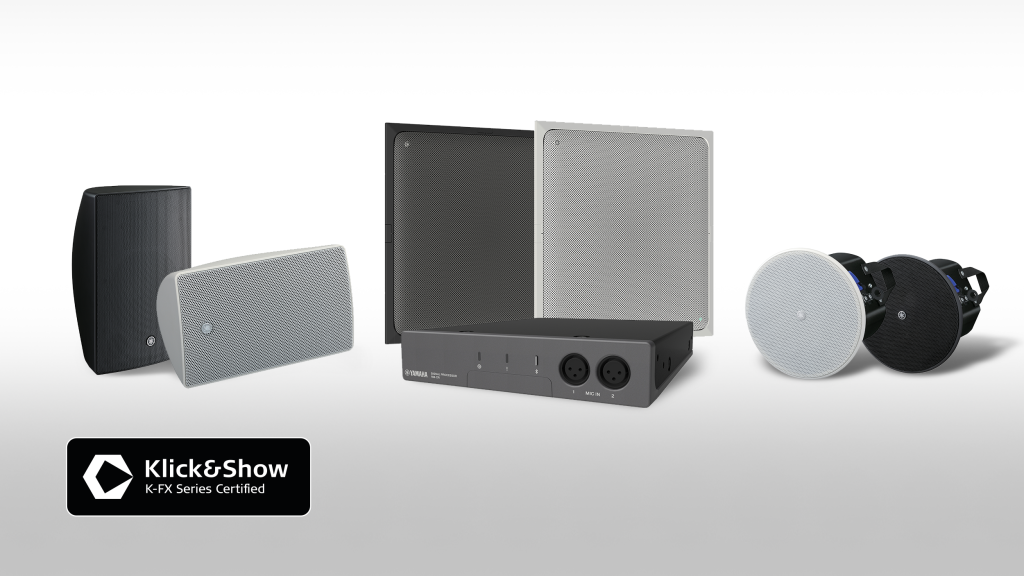 Professional complete audio solution for best sound quality
Yamaha's Dante-based ADECIA family of solutions is divided into three variants - ceiling, wireless and tabletop - and combines a whole range of microphones and loudspeakers into a complete solution for the best audio quality in the conference room. The RM-CR conference processor ensures the best connectivity by automatically detecting microphones and speakers on the same network and making the optimal sound settings according to the rooms in use.
The combination makes it
In combination with Klick&Show K-FX, these devices can be conveniently operated in the spirit of BYOM (Bring Your Own Meeting). Thanks to USB-over-WiFi for conferencing, the devices can be connected via USB to the Klick&Show K-FX and used wirelessly with the notebook. For this purpose, four USB ports (1x Type-C, 3x Type-A) are available on the back of the base unit Klick&Show K-FX are available. Thereby, it supports the transmission of camera images in Full HD resolution (1920x1080p) at 30 fps for excellent image quality in video conferences.