Face Focus Beamforming combines the positional data from the 4K camera and Hexagon Beamforming microphone to focus the microphone beam on the voice source. This enables a seamless and immersive tracking experience like no other!
CLEAR VOICE - NO NOISE ALSO FROM OPEN SPACES
Yamaha's unique SoundCap Eye™ technology enables the best communication with clear voice transmission, even from open work environments.
Hexa-microphone
The six microphone capsules are arranged in a hexagonal array that creates a three-dimensional microphone beam that focuses on the audio source to more accurately capture spoken words. Compared to other video soundbars or conference systems, this allows for clearer and more precise sound reproduction.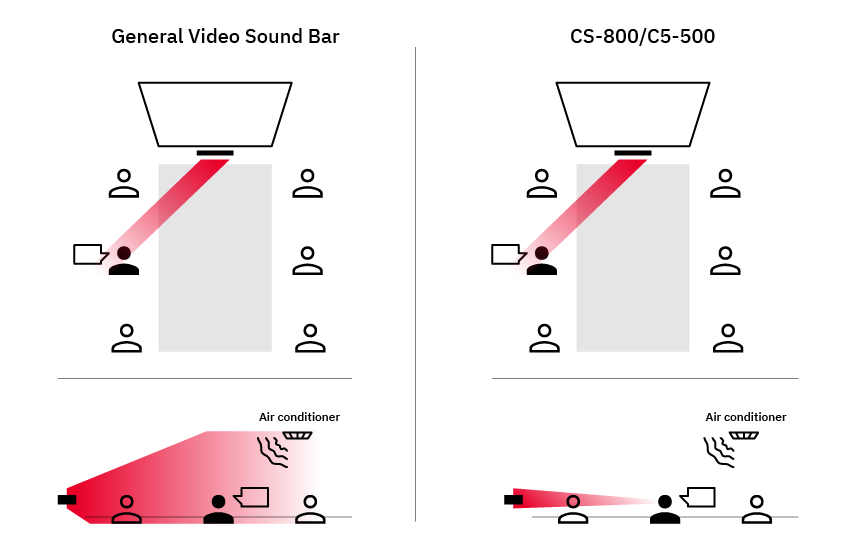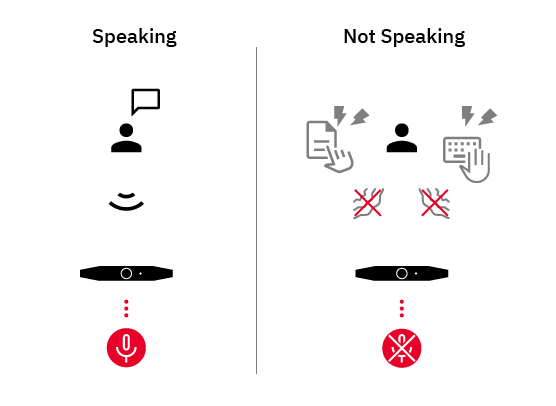 Self-Silence
CS-800 and CS-500 feature automatic muting of the microphone when no conference participant is speaking. Using Yamaha's HVAD (Human Voice Activity Detection) technology, the CS-800 and CS-500 instantly distinguish the human voice from other sounds.
Participants can rely on smooth conversation without unnecessary noise, whether they are talking or not.
Automatic volume control 
With the "Self-Volume Balancer" function, CS-800 and CS-500 automatically adjust the output volume to the ambient volume, so that the volume of the speaker (integrated in CS-800 or a monitor speaker) always remains appropriate.
Participants can hold remote conferences in open spaces without disturbing their surroundings and still hear the conversations.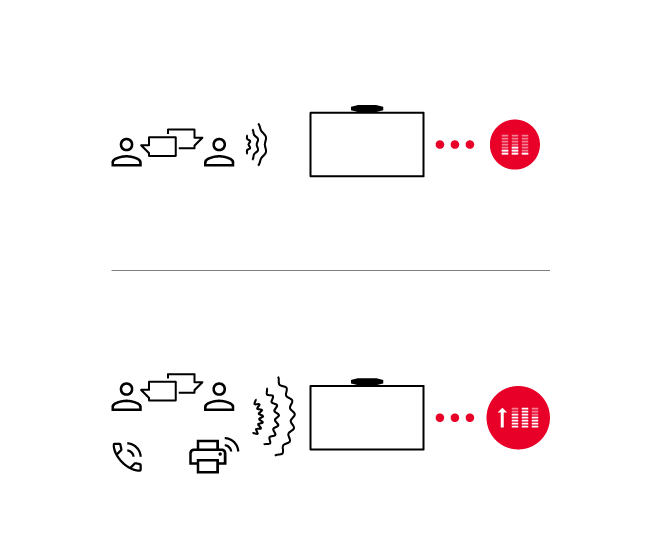 CS-800 Video Sound Bar for small Meeting spaces
All-in-one design: camera, microphone and speaker system.
Newly developed SoundCap Eye™ technology
4K camera with smart framing
Adaptive echo cancellation and noise reduction
Hexa beamforming microphone
90 dBSPL (1 m) Integrated speaker
Unique remote control mute button
Certified for Microsoft Teams and Zoom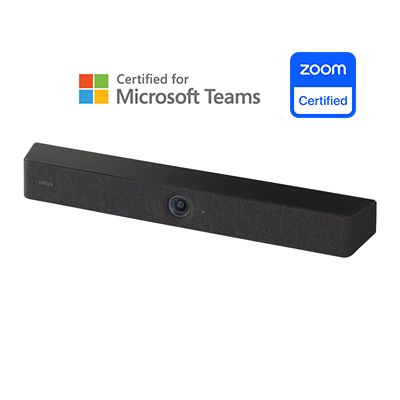 CS-500 Video Collaboration System for Huddle Spaces
Camera and microphone remote collaboration system.
Newly developed SoundCap Eye™ technology
4K camera with smart framing
Adaptive echo cancellation and noise reduction
Hexa-microphone with beamforming
Unique remote control mute button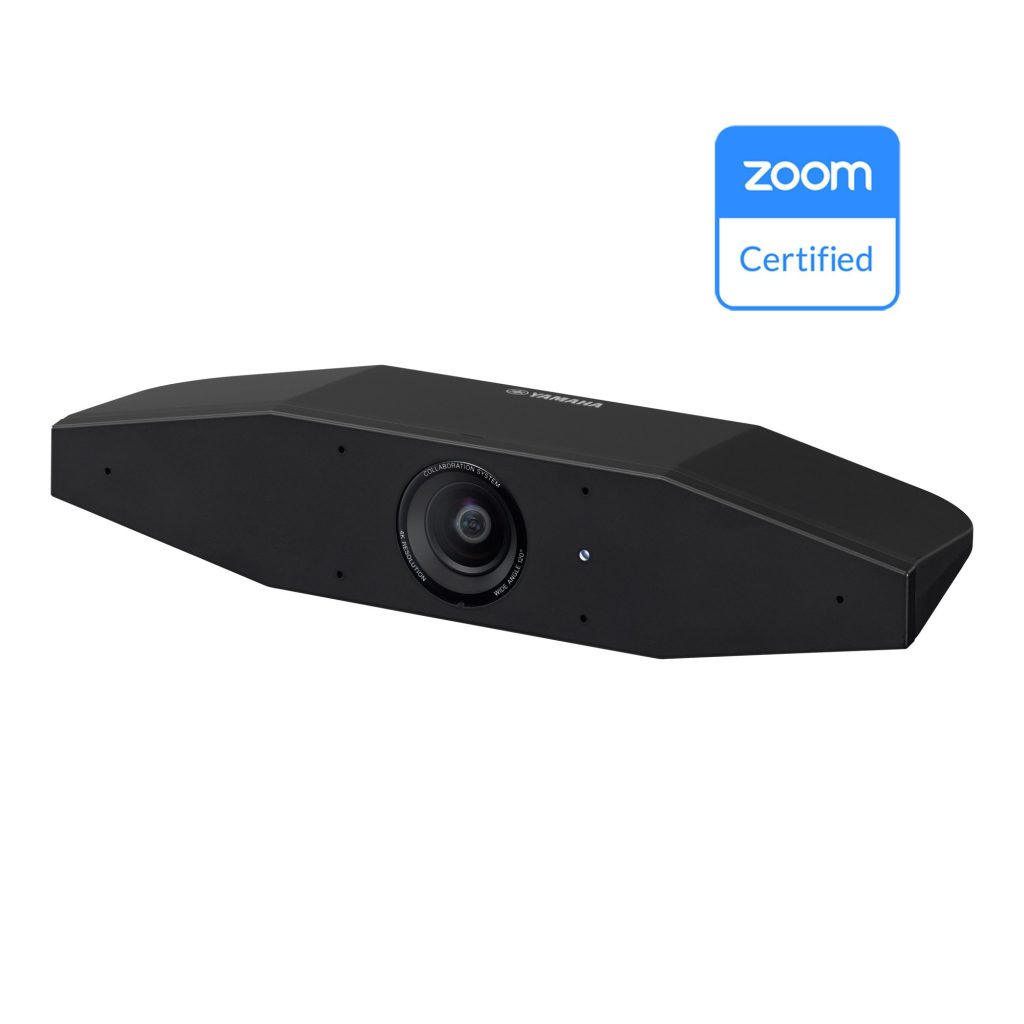 Both products are available now, feel free to contact us.
MAXHUB has updated the UCC portfolio and upgraded many products visually and technically. Here you will find an overview of the current products, further technical data can be found in our webshop.
The versatile products are suitable for conference rooms as well as for home office needs and make an important contribution to the hybrid working world!
Speakerphone BM35
Perfect voice quality wherever you are
The BM35 is the successor of the two speakerphones BM20 and BM21. It is the perfect complement for the smallest meetings or Meeting spaces. Thanks to the 360° pickup range with up to 6 m range, built-in echo cancellation and noise reduction, every conference participant is transmitted clearly and distinctly. For use in slightly larger rooms, 2 BM35s can be paired via Bluetooth to extend the pick-up range of the microphones. 
The built-in rechargeable battery, with up to 30 hours of talk time, make the MAXHUB Speakerphone the ideal audio companion for your meetings.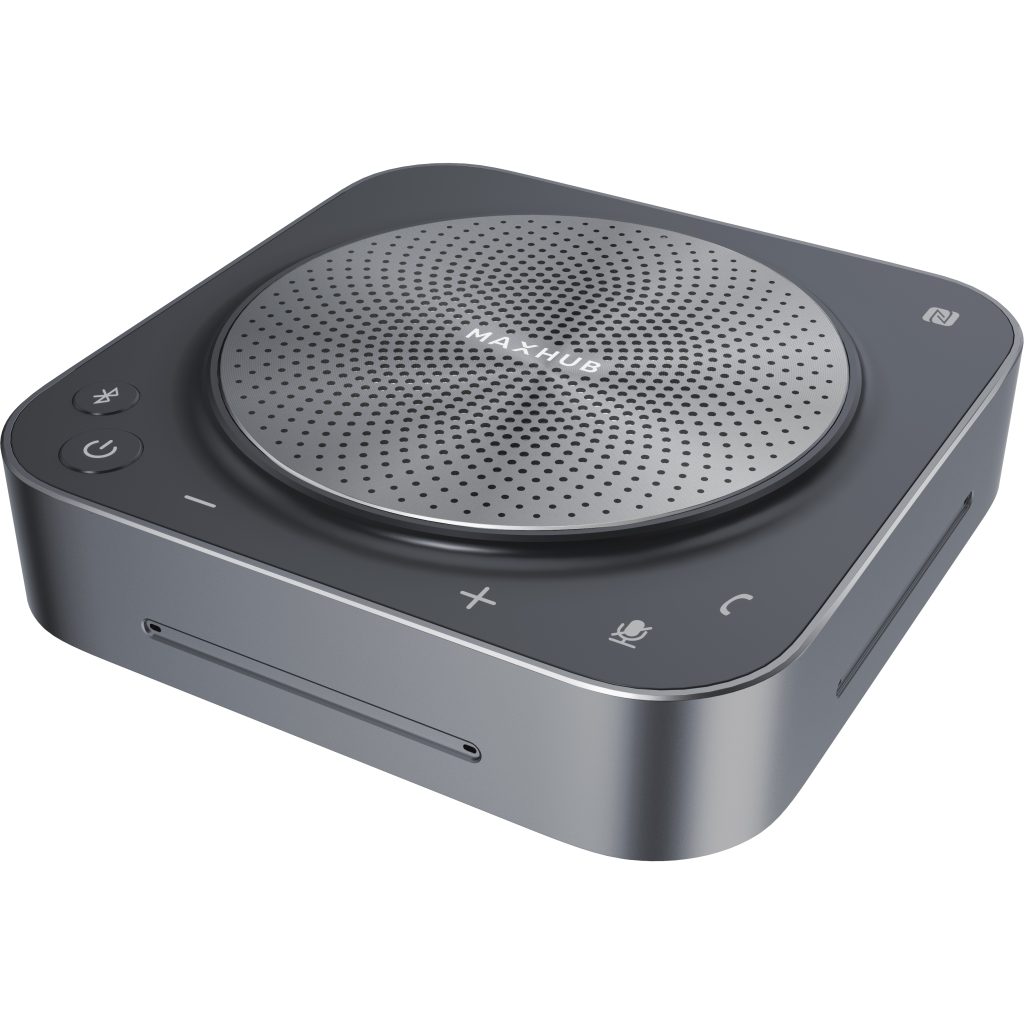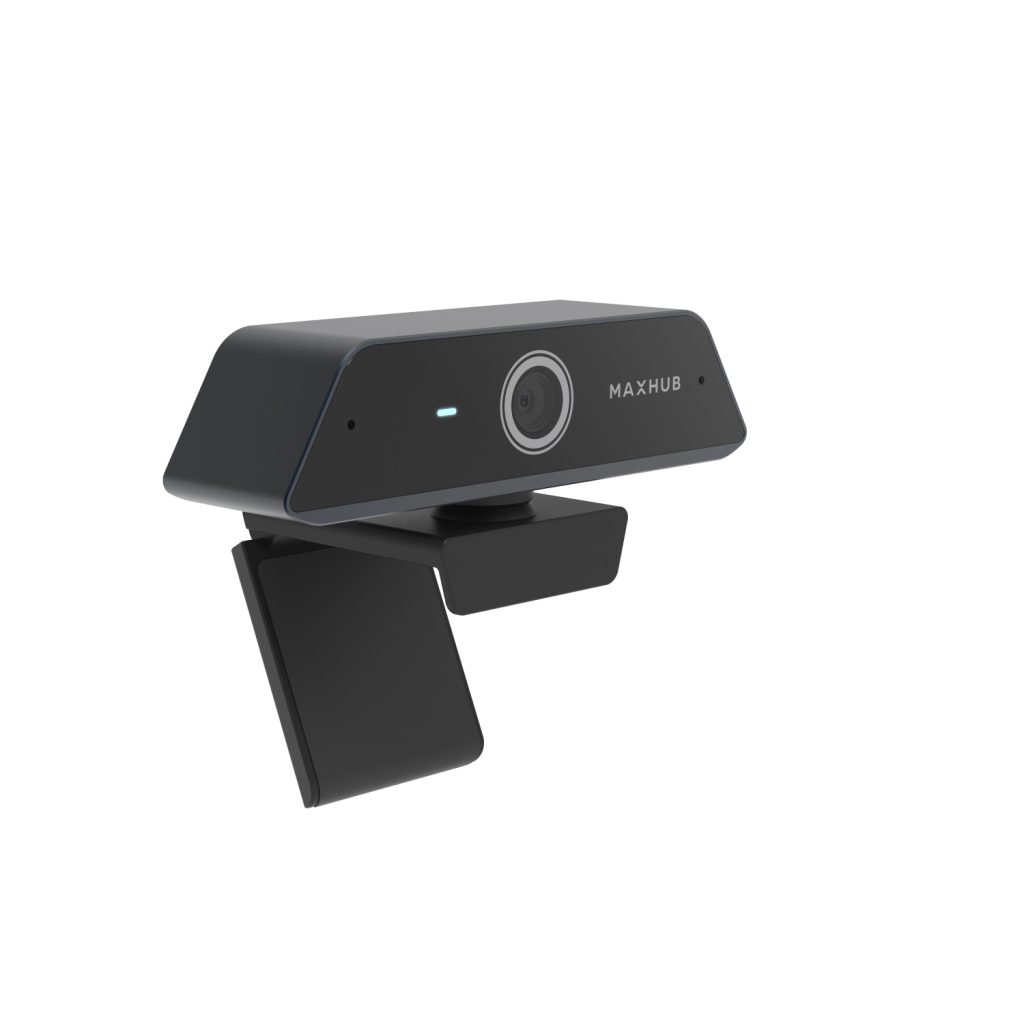 UHD Camera W20
The camera for the workplace
The W20 also has 2 microphones with a range of up to 4 m.
The camera's UHD image is rendered crystal clear even in low-light environments thanks to 2D & 3D DNR technology. The 80° shooting angle, autofocus, and tiltable mount ensure you're always in perfect focus. The UC W20 is the perfect companion at work or in the home office!
The W20 is also recognized directly on the computer thanks to Plug&Play by connecting it with the USB-C cable.
Professional PTZ cameras
P15 - the solution for Meeting spaces
The UC portfolio from MAXHUB also covers larger applications. For medium to large rooms, the use of PTZ cameras is recommended. The P15 is a Full HD camera with USB-C 3.0 output.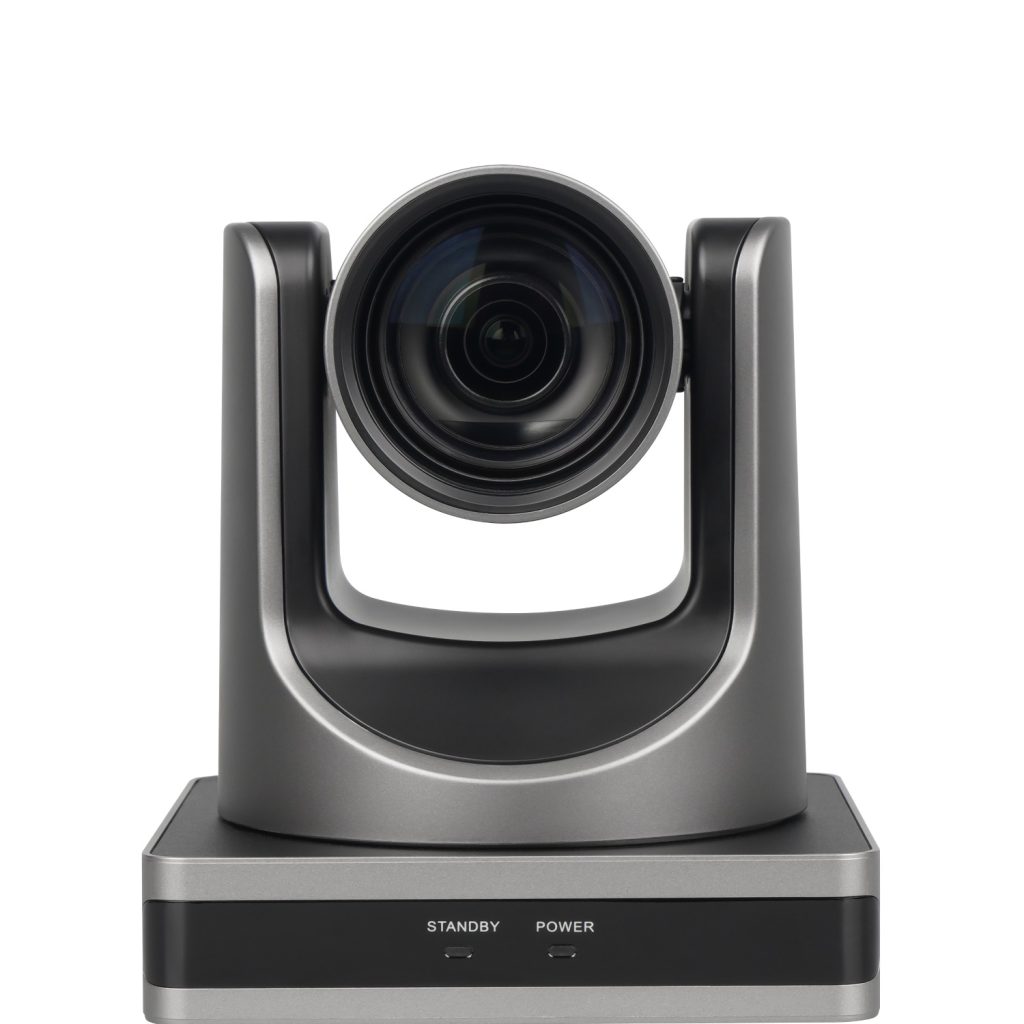 The 12x optical zoom guarantees a clear image and ensures flexibility in camera placement.
The line-in allows an audio source, such as an external microphone, to be fed directly into the camera's USB stream. The control can be done via the IR remote control or via existing media controls via RS232.
The camera signal can be output via HDMI, USB and network stream simultaneously.
P25 - the sharpest camera
The premium UHD 4K PTZ camera P25 is the latest generation of professional cameras for the conference sector. The different output interfaces such as HDMI, 3G-SDI, USB and two network streams provide a suitable video stream for every requirement.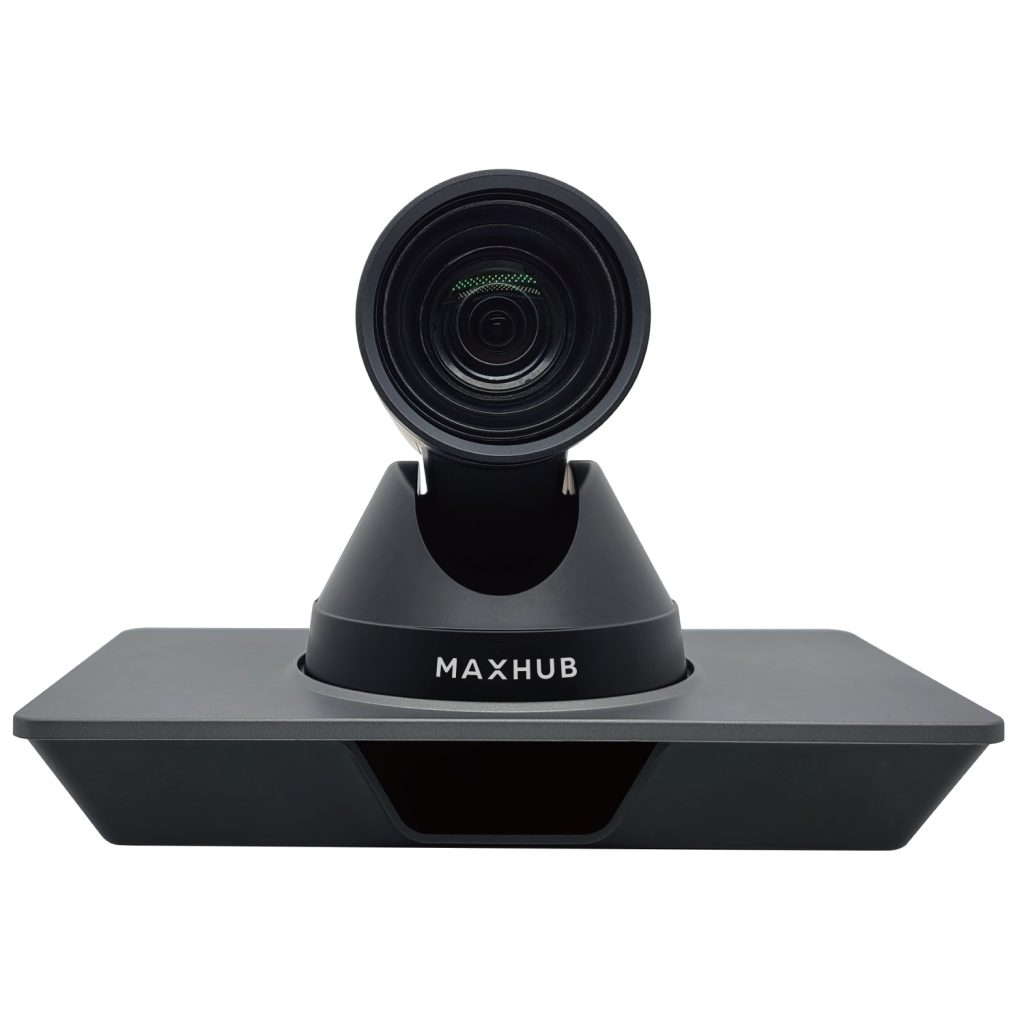 Thanks to 12x optical zoom, even distant objects can be captured extremely sharply and brought into focus. The camera can be integrated into existing media controls via RS232 or VISCA protocols.
Video soundbar 
S07 - the ideal solution for small rooms
The S07 video soundbar instantly turns small rooms or huddle spaces into a video conference room. The UHD camera with 120° field of view captures every participant.

The latest developments in sound processing such as adaptive echo cancellation, noise reduction, automatic volume control, desounding and the built-in 8+3W speaker system ensure an optimal speech experience.
A USB-C port is available for connection to a computer.
S15 - everything you need in one device
The S15 is a stand-alone video soundbar.
It combines camera, speakers, microphones, Android system and wireless screen transmission in one device.
If the camera is connected to a display via HDMI, a video conference can be joined directly via e.g. Teams or Zoom. No additional device is required. Mouse and keyboard can be connected via USB-A for navigation in the menu.

The optional screenshare dongles also make it possible to easily transfer your own screen and thus show it on the display in the room. For this, the dongle only has to be connected to the computer via USB-A.
---
You want to convince yourself of the MAXHUB products?
Take part in our attractive Try&Buy promotion and see for yourself!

For details, please contact your sales representative.
With the TD-11 series, we are expanding the touch display portfolio with four NextGen touch displays. These combine the functions known from Kindermann touchdisplays with revised features.
Revised connection concept
In addition to DisplayPort, two HDMI inputs and two full-featured USB-C, the TD-11 series impresses with a sophisticated connection concept: Each of the 8 digital video inputs is assigned its own touch USB port. This allows you to conveniently leave end devices plugged in, making plugging them in a thing of the past.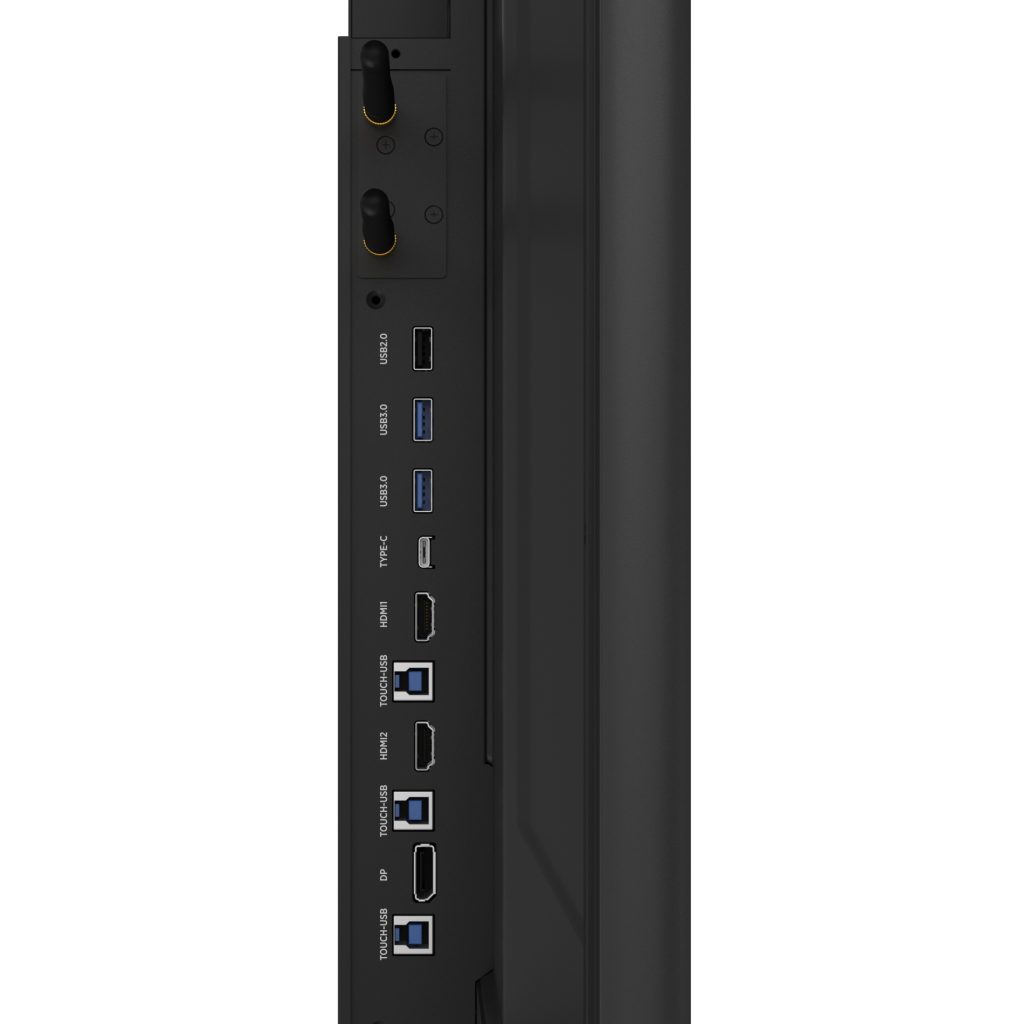 Exchangeable WLAN module
The TD-11 series' claim to be a NextGen touch display is also underlined by the exchangeable WLAN module. It is already equipped with the state-of-the-art specs WiFI6 and Bluetooth 5.0. Two antennas protruding from the case ensure even better reception at every location.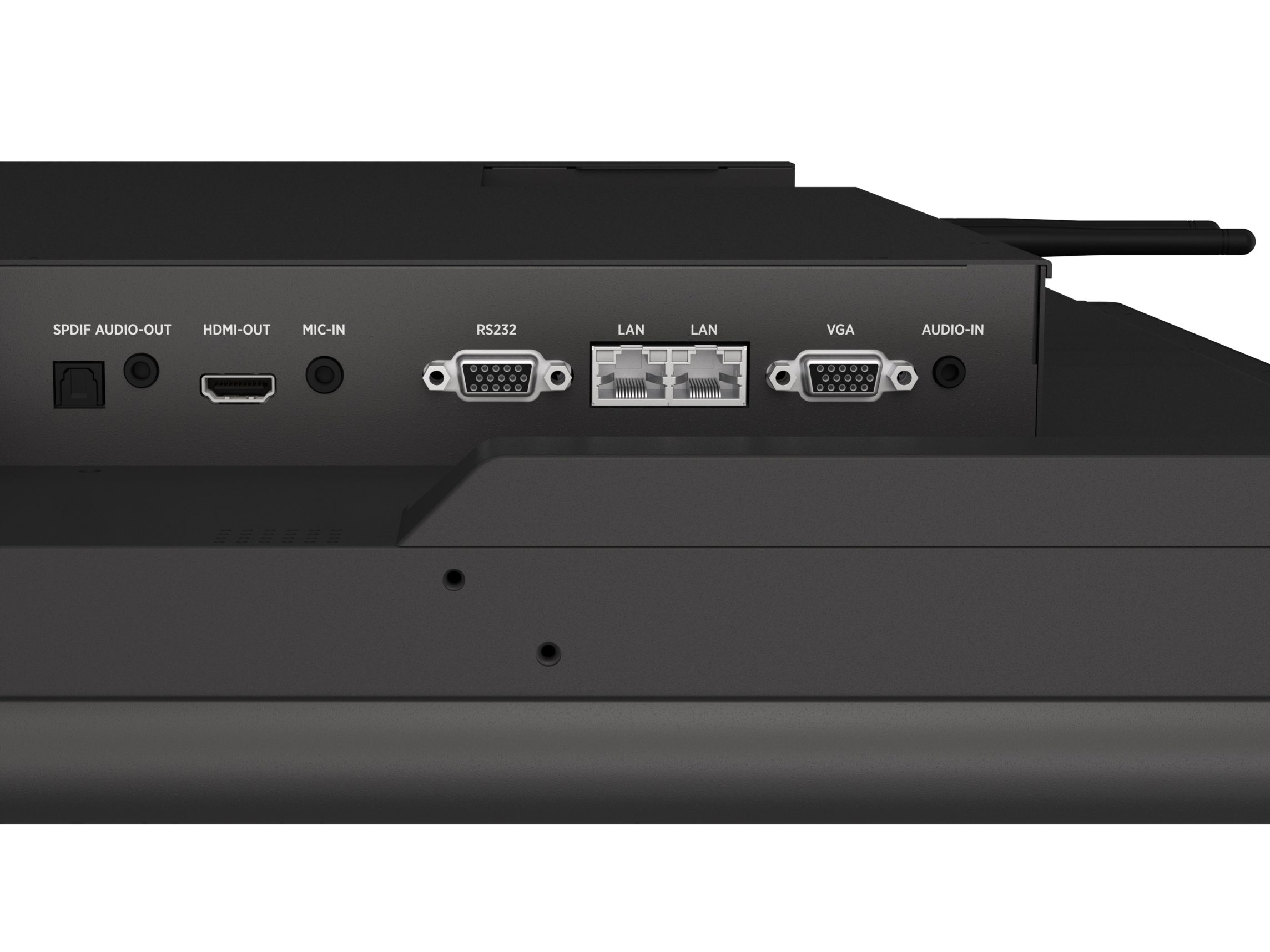 Open for everything!
What you know and appreciate from the TD-20 series is also available on the TD-11. Thus, in addition to the usual intuitive user interface and the Kindermann whiteboard app, the screen sharing app EShare can also be found on the TD-11.
Use your display how you want! Whether Chromebook, MacOS, Windows, Android ... with this app you can easily and platform-independently share content and the screen from all your devices; in split screen even up to 9 screens simultaneously.
Thus, there are no limits to the use of the TD-11 series: whether IPad classes or in the meeting room, the TD-11 makes good, excellent.
Best of all, all 55″, 65″, 75″ and 86″ sizes are available now!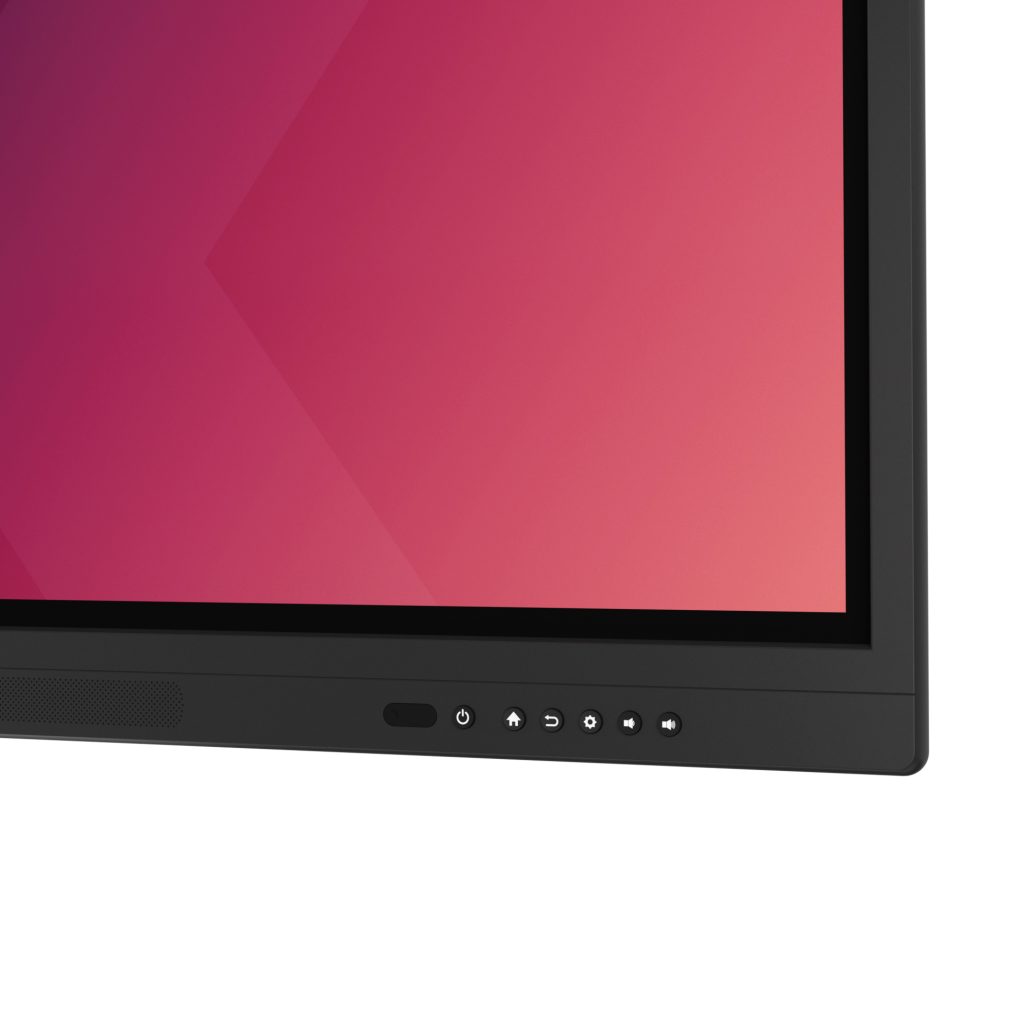 Do you already know our new CablePort table? The connection panels fit into the cutout for 80 mm cable outlets. They are equipped with a Schuko socket and a 2-way USB charger that can deliver up to 4.2A charging current.
Mounted in the twinkling of an eye
Mounting is done in a flash: Insert the connector panel into the cutout, turn the clamping ring against the tabletop from below; done!
Lightning-fast mounting, thanks to rotatable clamping ring.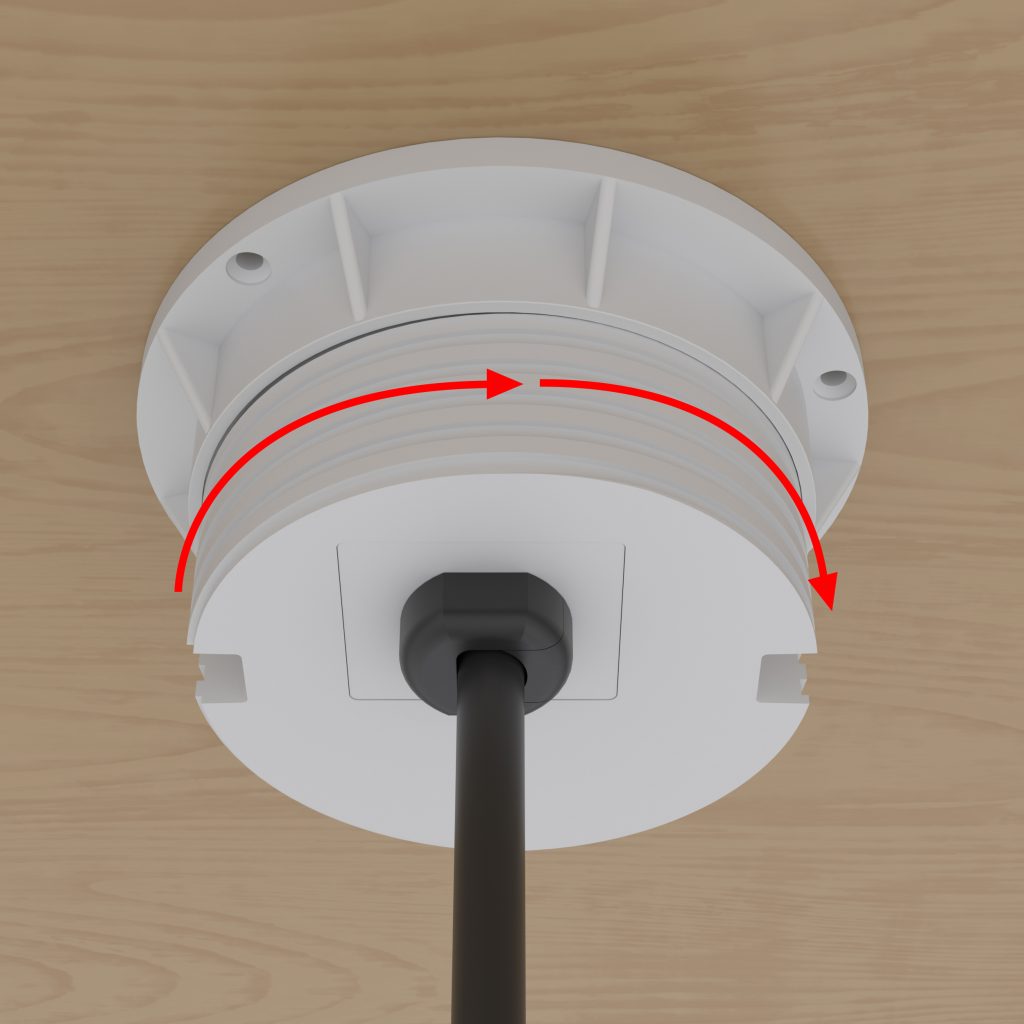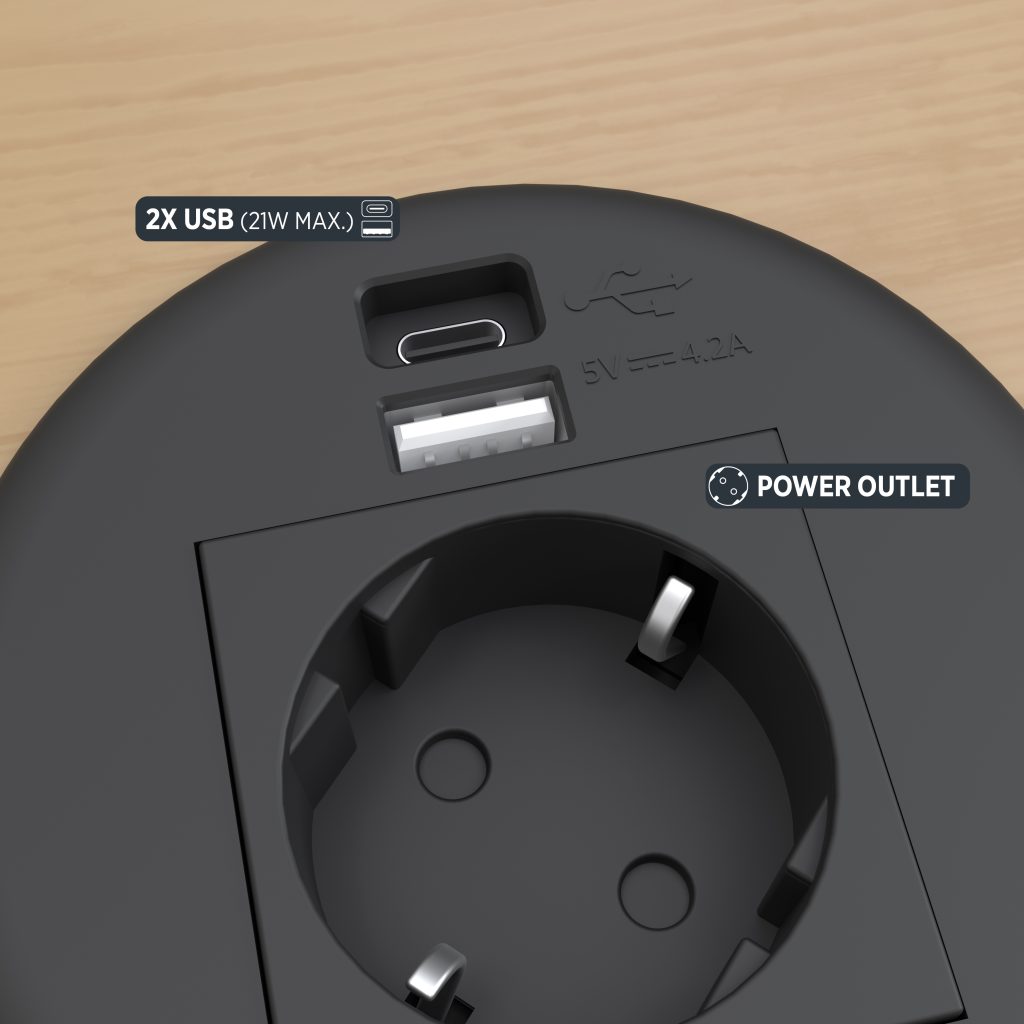 The power connection is made via a GST18 plug.
The connector panels are available in timeless black or white at a list price of 79 € plus VAT. They are available immediately from stock.
Our CablePorts with integrated USB charger have received an upgrade. From now on, we equip the connector panels with a modern USB charger with a USB-C and a USB-A interface. The USB-C port supports USB PowerDelivery 3.0 with up to 30 watts, the USB-A port supports the QuickCharge 3.0 fast charging protocol.
This means that smartphones and tablets will be charged even faster in the future, but the power will also be sufficient for economical notebooks.
Loading profiles
Charging profiles USB-A: 5V/3A, 9V/3A, 12V/2.5A, 20V/1.5A
USB-C charging profiles: 5V/3A, 9V/3A, 12V/2.5A, 15V/2A, 20V/1.5A
Charging profile combined A + C: 2x 5V/1.2 A
Without the device connected, the idle power consumption is an environmentally friendly 0.1 W, which is easy on the wallet.
You can find an overview of the available models in the webshop.
We expanded our signal management portfolio with the new MultiSwitch 21 HDBT. The multi-format switch for HDMI, USB-C incl. USB data signals consists of a receiver as well as a transmitter unit and is ideal for the use of UC equipment in conference rooms.
With the Kindermann MultiSwitch 21 HDBT, signal management in conference rooms becomes child's play. The signals are transmitted to the display via HMDI cable. USB signals from UC equipment such as video soundbars and cameras connected to the display via USB are also sent back to the transmitter in the same way. If a Speakerphone is used at the conference table, it is connected directly to the transmitter. The USB-C interface supports PD 3.0 with a charging current of up to 60 W. Of course, KVM applications can also be realized with the MultiSwitch.
One cable for all signals
The multi-format switcher for HDMI, incl. USB 2.0 data signals and USB-C supports resolutions up to 4K/60 (4:4:4) as well as HDCP 2.2. All data is thereby transmitted via HD-BaseT 3.0 uncompressed with a maximum of 18 Gbit/s over a distance of up to 100 meters via a single CAT 6/7 without loss. Thanks to Power over Cable, the transmitter and receiver set requires only one power supply.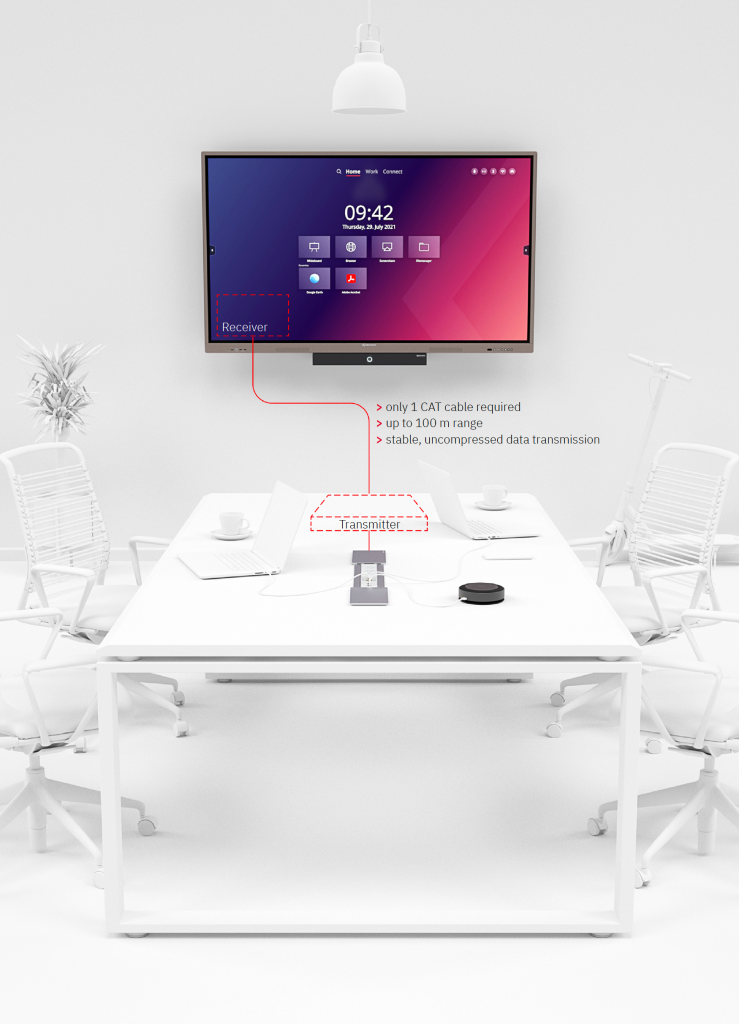 Wide range of control options
The Kindermann MultiSwitch 21 HDBT can be easily integrated into the corporate network, where it can also be controlled via a web interface. Alternatively, the switcher can be controlled via the front panel buttons, RS232, IP and contact inputs. Video input signals are automatically detected via 5V or TMDS detection.The new working worlds are also changing the equipment of conference and meeting rooms, making UC equipment essential today. With the MultiSwitch 21 HDBT, Kindermann meets these new requirements.

The new 4K digital signage projector is suitable for a variety of environments, including art galleries, exhibition spaces, corporate lobbies, retail stores, showrooms, conference halls and auditoriums. It delivers sharp, impressively large images and has a peak brightness of 7,000 ANSI lumens - the highest of any LG projector to date. 
Pin sharp in daylight
The LG ProBeam produces images in 4K UHD resolution (3,840 x 2,160) with a contrast ratio of 3,000,000:1 and an image size of up to 300 inches. With a peak brightness of 7,000 ANSI lumens, the BU70QGA delivers clear images even in bright daylight. In addition, the projector features a reliable laser light source, lens shift, 1.6x optical zoom, built-in wireless connectivity, and a built-in camera to help with setup and positioning.
Perfectly connected
Edge blending technology allows seamless connection of two or more projectors by adjusting brightness, as well as color correction. Thanks to this advanced technology, up to nine BU70QGA can be used together to create true panoramic images. Especially for museums and art galleries this function is very interesting.
With the BU70QGA's automatic image adjustment, users can quickly calibrate the image to the projection surface and correct image distortion with the touch of a button. If the projection angle does not match the screen, AI sensor technology automatically adjusts the projected image to ensure the best viewing experience. 
Thanks to a powerful SoC (system-on-chip), the projector can perform multiple tasks simultaneously, play content smoothly, and optimize user experience with an intuitive user interface. The BU70QGA can also connect to LG ConnectedCare, LG's cloud-based device management solution for digital signage and display devices. 
Designed for the commercial market, LG's ProBeam projectors offer multiple, customizable options that allow customers to create professional AV systems tailored to their specific needs.
For further details and datasheets please click on the link to our webshop.
ADECIA lets your hybrid working environment appear in a new sound. ADECIA sees itself as a total solution that intelligently combines all components of a professional audio system for your UC applications. 
Now available at Kindermann ! 
ADECIA stands for: 
Immediate implementation of a high-quality audio setup in your (existing) technical infrastructure, from sound input to output 
Uncomplicated installation
Simple, intuitive and fast configuration 
Excellent audio quality, regardless of room conditions 
Ceiling, wireless or tabletop solution offer maximum flexibility for any requirement 
Maximum flexibility
ADECIA offers all components for a perfect audio setup. From voice recording via various microphones with built-in DSP technology, to innovative sound processing and a PoE-powered active speaker system.
The individual components are connected to each other by Cat cable via a PoE+ network switch.
Structure - The heart 
The RM-CR conference processor automatically detects all Yamaha Dante® microphones and speakers on the same network. At startup, it automatically determines the optimal sound settings for the environment, taking into account not only the locations of the speakers and microphones, but also the reverberation and echo characteristics of the room.
Automatic fine-tuning is easily performed in five steps via a web-based interface. The RM-CG performs automatic mixing of all connected Dante audio sources and can additionally handle signals from dynamic microphones, analog line-level inputs, USB, Bluetooth and SIP telephony.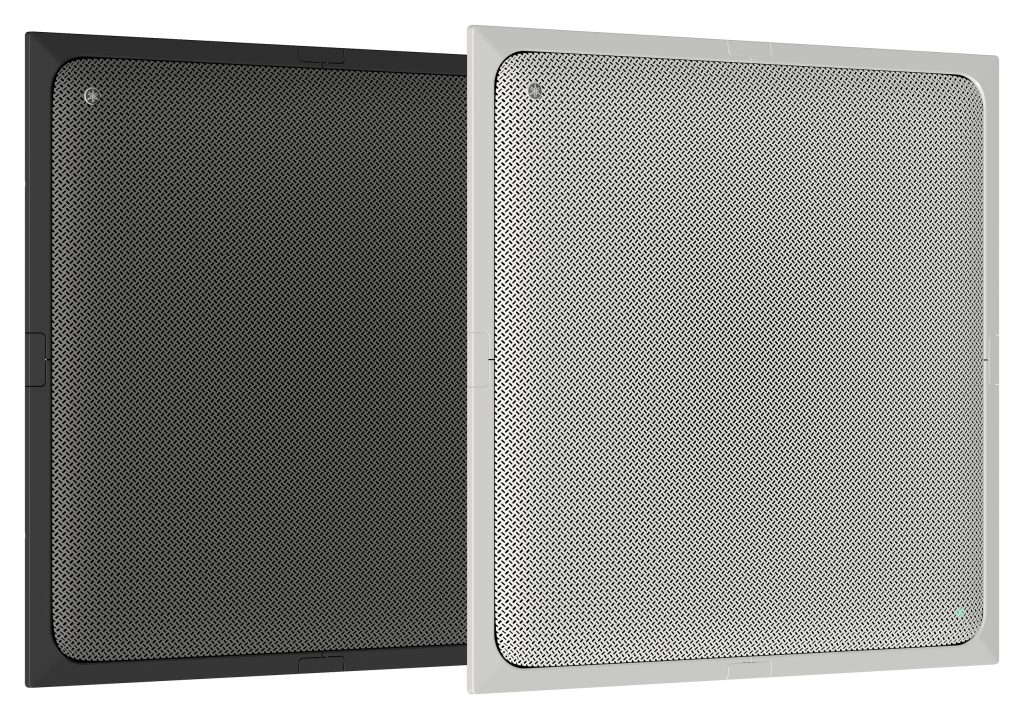 Microphones - RM-CG
The RM-CG dynamic ceiling beam microphone features multi-beam tracking technology that focuses on voices. Through the special spiral arrangement of its microphone elements, the RM-CG provides a very narrow, precise beam for voice capture, while consistent background noise is cancelled out by Yamaha's advanced noise reduction algorithms and Human Voice Activity Detection (HVAD). When combined with beam-tracking technology, individual voices are recorded clearly, even when more than one person is speaking. A single LAN cable provides Dante audio, control and power.
The three included mounting kits (ceiling mount, VESA and wire mount) allow installation in any room.
RM-TT
The ADECIA Tabletop solution features Yamaha's renowned audio technologies, such as Auto Voice Tracking, which tracks participants' speech for optimal capture. The easy installation of the microphones and innovative voice capture allow for great flexibility in designing the arrangement of furniture in the room. Thanks to six individually selectable room capture patterns, the solution can be customized to your specific use case and number of participants. These modes can be used, for example, to divide rooms into individual zones for different participants.
Wireless
The wireless microphone solution is available in 4 microphone variants to support a variety of conference formats: 2 boundary microphones with different polar patterns and 2 gooseneck microphones with long or short neck.
RM-W System Example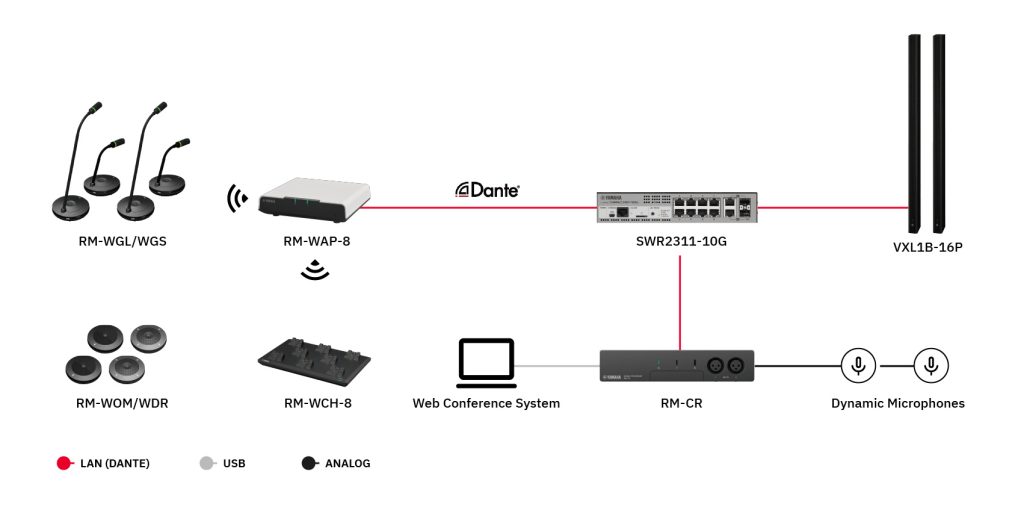 The wireless access point acts as a receiver and antenna. ADECIA's wireless solution is available with 8 channels (RM-WAP-8) or 16 channels (Dual RM-WAP-8). The Luxul AMS1208P, for example, can serve as the network switch.
The wireless system is based on the DECT standard, so there is no interference from existing W-LANs. The solution is designed to be protected in terms of information loss and data security.
Loudspeaker
Analog audio systems for wall or ceiling installation or column speakers based on Dante® are available as loudspeakers. You can choose from several bundles including the appropriate amplifier and signal processor. This ensures an optimal audio experience.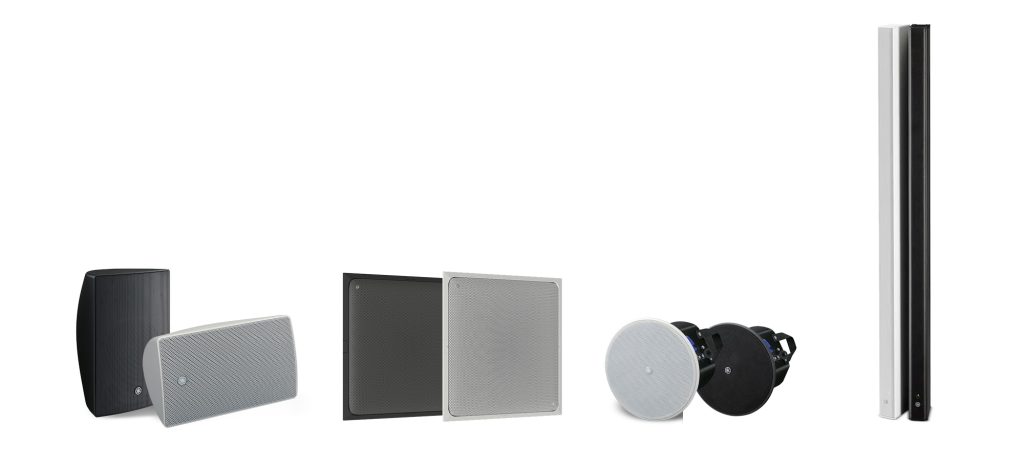 The Adecia system consisting of a ceiling microphone and the column speakers is in use in our conference room.
Feel free to contact us for a live demonstration. The devices are already available, further details and datasheets can be obtained via the respective links to our webshop.
With our new 105 inch touch display TD-30105-UW we present the ideal solution for New Work environments. In addition to the extraordinary aspect ratio of 21:9 in 5K resolution, it convinces with a future-proof hardware equipment.
A real eye catcher
The new Kindermann touch display TD-30105-UW impresses with its 105 inch panel with an aspect ratio of 21:9 in 5K resolution. On the one hand, this exceptional format has the advantage of offering more space horizontally for visualizations. This is ideal for displaying and collaborating in project management plans known from Agile, Scrum or Kanban. On the other hand, the special width is optimal especially for video conferencing. A perfect example of this is the Front Row application in Microsoft Teams Rooms, where all remote participants are shown in a gallery view at the bottom of the display. This gives the feeling that everyone is sitting at the same table. The design has also been thought of, the narrow frame is the same on all sides. Thanks to the 20 touch points, two people can work comfortably on the display at the same time. The Zero-Gap technology ensures precise input.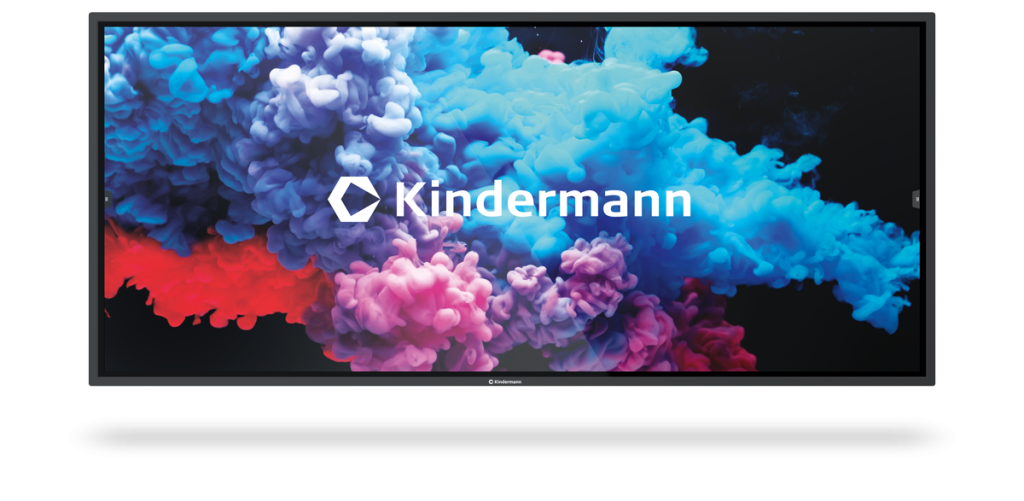 Powerful OPS PC on board
The touch display offers two DisplayPort interfaces that primarily support the 5K resolution, among other advantages. Of course, the bandwidth of all common ports is also available. Our new TD-30105-UW does without an Android operating system. Instead, it relies on an integrated state of the art Windows OPS PC with Intel i7 processor, 16 GB DDR4 RAM, pre-installed Windows 10 Pro, WiFi 6 as well as two Thunderbolt 4 ports. This ideally meets the requirements of companies, as their existing infrastructure is mostly based on Windows applications. Another advantage of the OPS PC is that the new touch display can remain in use for a very long time, because if the integrated OPS PC should ever become too slow, it can be easily replaced. This ensures a sustainable investment.
Mobile despite size
Most common display mounts/stands are designed for sizes up to 86 inches. This is where our special role as a manufacturer comes into play. To match the new touch display, we offer you the ideal optional roller stand. This allows it to be used flexibly despite its size, which means real added value.
We present TeachPoint3the new generation of beautifully designed lecterns. Our focus during further development was on making installation, service and subsequent adjustments even easier.
We developed the first TeachPoint design media desk together with a university. From practice for practice was the motto and the success proves us right until today. The appealing design with the rounded corners and the stepped wave course at the central corpus, which can be optionally illuminated by RGB lighting, make the functional furniture a real eye-catcher.
TeachPoint3 Can be customized
The modular lecturer desks can be individually configured to meet specific requirements. They can be equipped with a touch display, PC, media control and much more. The touch display can be folded out using a gas spring and its angle can be continuously adjusted. In addition, the TeachPoint3Thanks to the infinitely variable, motorized height adjustment, the TeachPoint always offers the right position for every speaker, including wheelchair access. While the TeachPoint model3 Single is designed for small and medium-sized rooms, the TeachPoint3 dual offers all options for large lecture halls, conference centers or boardrooms. Both versions can also be equipped with 9 U 19" racks.
Installation and service made easy
There are inspection accesses on both sides of the media desk, which greatly simplify the installation and service of the integrated technology. Nevertheless, the components are safe because the media cabinet is lockable. If requirements change, subsequent adjustments are easy to implement. Another plus point is that the individual cladding parts can be replaced with little effort if damaged. All these aspects ensure sustainability.
Fast delivery
In the standard version with white outer decor and silver lacquered inner body, the TeachPoint3 in stock and available at short notice. However, the surface can also be realized in many different decors on request.
---