Kindermann offers with its DisplayShift² series safe and sustainable solutions for fast, smooth as well as stepless height adjustment of interactive screens with a size of up to 86 inches.
Simply
The DisplayShift² is adjusted to the desired height in no time at all. No waiting time as with classic electric height adjustments.
Infinitely adjustable
The DisplayShift² models are characterized by their ease of movement, so even heavy displays can be manually and continuously adjusted in height in no time. This creates an optimal, ergonomic working environment for users of any size to use interactive touch displays.
Cost-effective
Quick and easy installation, many years of use without maintenance and power-free application save you money.
Reliable
DisplayShift² stands for product availability: fast delivery times, 5-year warranty with on-site exchange service and 10-year spare parts supply on our own products.
Robust and durable
With over 50,000 cycles in the endurance test as well as a corresponding TÜV certification (applied for) according to DIN EN 14434, the Kindermann DisplayShift² meets the highest safety requirements.
Made for education
The Kindermann DisplayShift² Wings was developed specifically for the education sector with the support of our education experts.
---
Kindermann DisplayShift²
Classic
Our DisplayShift² Classic models provide users with a smooth and ergonomic solution for quickly adjusting the height of interactive screens up to 86 inches.
The all-rounders can be manually adjusted to any height in no time at all, providing users of any size with an optimal working environment for using interactive touch displays.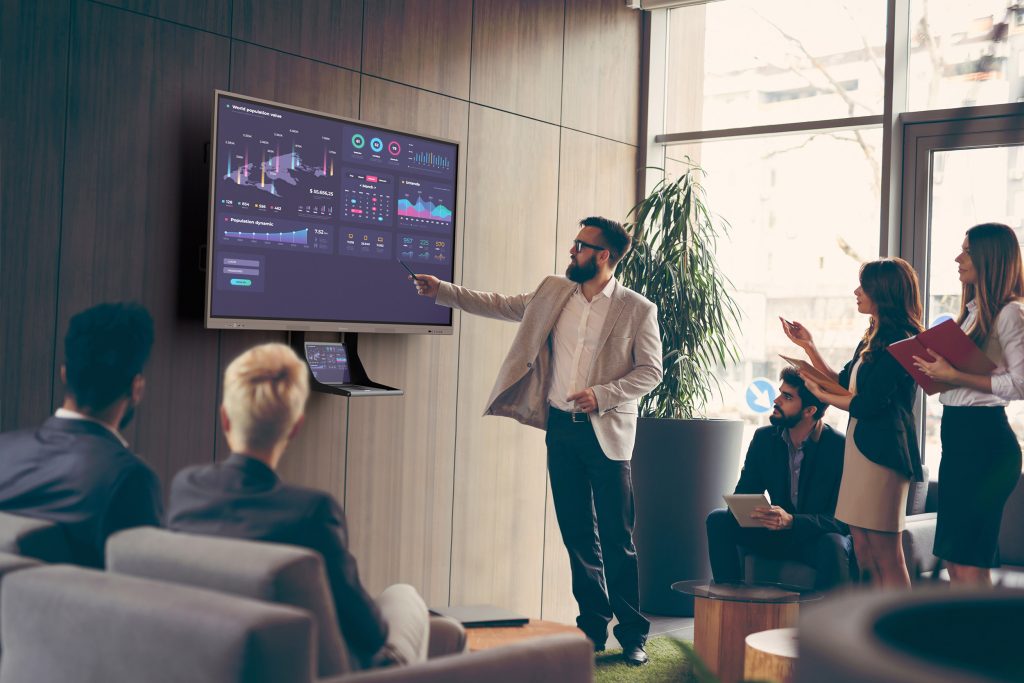 ---
Kindermann DisplayShift²
Wings
The EDUCATION model DisplayShift² Wings with wing panels was developed with experts specifically for the educational sector.
Robust. Safe. User-friendly. 
Child's play height adjustment for ergonomic work on the touch display as well as individually designable wing panels. These are just a few of the advantages that the Wings variant brings with it.
Specifications
DisplayShift² Wings
Dimensions in mm (WxHxD), closed:
2100 x 1230 x 283
Dimensions in mm (WxHxD), opened sashes:
4080 x 1230 x 283
Net weight in kg:
approx. 55
Delivery weight in kg:
ca.75
Display mounting:
Universal VESA from 300 x 150 to 800 x 800
Mounting options:
Wall mounting
Wall mounting for lightweight walls with floor stand 4031000510
Load capacity in kg (display & accessories):
55 - 78
Range of motion vertical in mm:
approx. 690
Maximum display size in mm (WxHxD):
2020 x 1180 x 950
Item number
4031000500
Choose from a variety of rulings:
The side wings of the DisplayShift² Wings system have a standard size of 120 x 99 cm (height x width)
Available as whiteboard or chalkboard
Enameled* surfaces

Extremely resistant
Very good writeability and erasability
Outstanding quality of the rulings, as they are not printed on, but burned into the enamel steel

Listed surfaces with respective rulings individually designable
20 years warranty
*Enamel is a coating of molten glass, which after heating fuses with the metal surface. From this process results excellent surface hardness.
Accessories
Article
Item no.
Floor stand - ideal for use on lightweight walls
4031000510
Tray Deluxe for notebook or other utensils
4031000512
Viewing panel on the side for optical cover
for the DisplayShift² Wings (4031000500)
4031000514
Kindermann Sprinter DS - for mobile use of a height adjustment
for the DisplayShift² Classic (4031000502-503)
4004000200
4004000203
one pair of wing panels 99 x 120 cm
White, steel enamel (4202000010) or steel enamel with surface and
ruling as desired, according to the above selection (4202000020)
for the DisplayShift² Wings (4031000500)
4202000010
4202000020